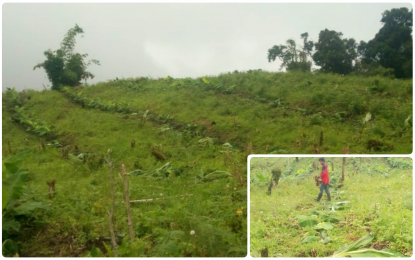 KIDAPAWAN CITY – More than 1,300 banana plants have been chopped by still unidentified men in a banana plantation owned and planted by Indigenous Peoples (IPs) here.
The plantation is located in the village of Balabag, an upland community situated beside Mt. Apo, the country's highest peak, according to village chair Eduardo Empan.
He said the plants were discovered chopped off on Tuesday morning.
Empan, also head of the Manobo Apao Descendants Ancestral Domain of Mt. Apo (MADADMA), an association of Manobo IPs who planted bananas out of the royalty shares they received from the Energy Development Corp., has offered PHP100,000 to get those behind the incident.
"The amount will be given to anyone who can provide information leading to the identification and prosecution of those who destroyed our bananas," he told reporters here Wednesday.
Empan estimated the destroyed banana plants at PHP500,000.
"We had planned to use the income from this plantation to buy school supplies for our children in Barangay Balabag," he said, adding that initial information gathered from IP members showed that five men were responsible for the attack.
"They could be people who do not want us to succeed in our banana plantation as those behind the attack. It is now up for the police to investigate deeper," Empan said.
He said he believed that those who chopped the plants only followed orders from the brains of the attack.
"We want to know the mastermind," he said, adding that they were coordinating with the city government regarding the incident. (PNA)