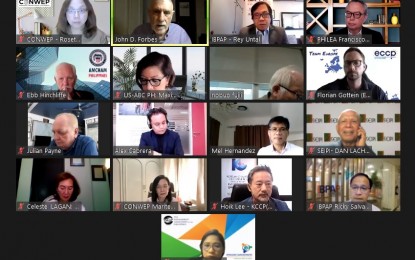 MANILA – Several business groups have called on the government to immediately repeal Revenue Regulation (RR) 9-2021 issued by the Bureau of Internal Revenue (BIR) that would impose 12-percent value-added tax (VAT) on goods and services that are previously zero-rated.
In a joint press briefing Tuesday, Information Technology and Business Process Association of the Philippines (IBPAP) president Rey Untal said this new BIR regulation is "hurtful and harmful to businesses" since additional tax will be passed on to export-oriented firms.
Under RR 9-2021, goods and services —including raw materials, packaging supplies, and lease of properties, among others— sold to export-oriented firms will no longer be exempted from 12-percent VAT.
"We, therefore, together with our colleagues here in the export industry, urgently put forward our appeal, our call for the immediate repeal of the RR 9-202," Untal said.
Semiconductor and Electronics Industries in the Philippines Foundation, Inc. (SEIPI) president Dan Lachica said the business group wrote to Trade Secretary Ramon Lopez to help the industry in addressing this concern to the BIR.
Lachica added that with the new policy, it would be cheaper to source raw materials and packaging supplies from foreign sources than from domestic suppliers.
"(W)e have already received information from some members that volumes from domestic constructive exporters will be transferred to foreign suppliers due to the additional cost caused by the 12-percent VAT," he said in his letter to Lopez.
He said the RR 9-2021 will also discourage foreign investors engaging in export activities to invest in the Philippines.
For the electronics industry alone, the new policy will cost the economy up to PHP28 billion in revenues and job losses of 10,000 to 50,000 employees.
Confederation of Wearable Exporters of the Philippines (CONWEP) executive director Maritess Jocson-Agoncillo has questioned the timing of the BIR regulation amid the challenges in the business environment brought by the pandemic.
"We kindly request the government not to change the game. We have not yet recovered from the economic impact of the pandemic," she said in the same briefing. (PNA)