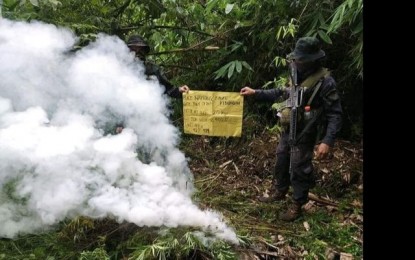 CAMP DANGWA, LA TRINIDAD, Benguet – The continuous anti-illegal drugs operations of Police Regional Office Cordillera (PROCor) resulted in the discovery of 35 kilograms of abandoned dried marijuana stalks worth PHP4.2 million during the two-day operation in Kibungan, Benguet.
Lt. Col. Rodelio Olsim, chief information officer of PROCor, said on Wednesday the operation was conducted in Badeo, Kibungan on July 12 and 13.
He said joint operatives from the 1st Benguet Provincial Mobile Force Company, Provincial Intelligence Unit and Drug Enforcement Unit with the Kibungan municipal police and the Regional Intelligence Division and Intelligence Unit discovered the abandoned dried marijuana stalks in two plantation sites at Sitio Naptong.
Olsim said an estimated 20 kilograms, worth some PHP2.4 million, was found in one site on July 12 while the remaining 15 kilograms worth PHP1.8 million was discovered in another plantation site the following day.
He said the plants were burned on site. Olsim said the operating troops are still at the mountain scouring the area for more hidden plantation areas.
The police officer said that marijuana eradication continues not just in Benguet but also in Kalinga and other areas of the region. (PNA)