MANILA – About 45 percent of Filipinos are now willing to get inoculated against the coronavirus disease (Covid-19), the latest survey of the Social Weather Stations (SWS) released on Wednesday showed.
The SWS survey, conducted from June 23 to June 26, showed that this is 13 percent higher than the May 2021 result of the same survey.
Of the 45 percent, 36 percent said that they "will surely get it" while nine percent replied that they "will probably get it".
In the May 2021 SWS survey, 23 percent of the respondents answered that they "will surely" get the Covid-19 vaccine while nine percent replied that they "will probably get it".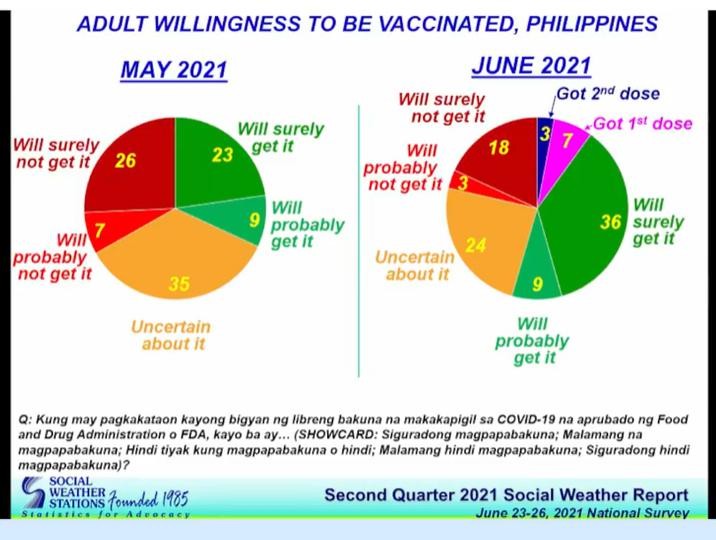 The June survey, however, also showed that 24 percent of adult Filipinos are still uncertain about receiving the vaccine, three percent said that they "will probably not get it", and 18 percent said that they "will not surely get it".
Meanwhile, the number of Filipinos who are willing to get vaccinated is highest in Metro Manila with 49 percent who are willing, 16 percent who are uncertain and eight percent who are still unwilling.
Visayas survey resulted with the lowest number of willingness to get inoculated with 41 percent willing, 21 percent are uncertain and 31 percent who are unwilling to get vaccinated.
The latest survey also reflected that 7 percent have already received their first dose of the Covid-19 jabs, while three percent already received their second dose.
The SWS employed a face-to-face interview of 1,200 adult Filipinos nationwide with 300 each in Metro Manila, Balance Luzon, Visayas, and Mindanao.
As of Monday, the Department of Health said that 13,196,282 Covid-19 doses have been administered in the country since the vaccination program was rolled out in March.
Of this number, 3,526,342 people have been fully vaccinated while 9,669,940 have already received their first dose as of July 11. (PNA)