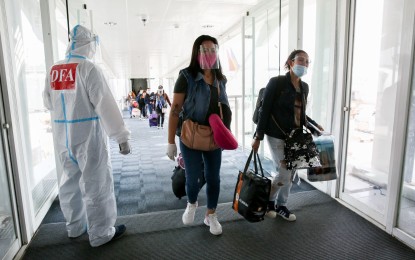 MANILA – The Overseas Workers Welfare Administration (OWWA) on Thursday reminded returning overseas Filipino workers (OFWs) from the 57 "green list" countries that vaccination documents of their relatives who will travel with them back to the Philippines should also be validated by the Philippine Overseas Labor Office (POLO) in their host country.
Administrator Hans Leo Cacdac issued the reminder based on the department order issued by Labor Secretary Silvestre Bello III.
"Secretary Bello has issued DOLE Department Order No. 226-A, amending D.O. 226, whereby spouses, parents, and children traveling with fully-vaccinated returning OFWs from the 57 "green list" countries may also get their vaccine documents validated by the POLOs," he said on his Twitter account, @HansLeoCacdac.
The order covers all OFWs, whether documented or undocumented and their spouse, children and/or parent/s traveling with them.
Returning Filipinos who are applying for POLO validation are directed to upload documents through the OneHealthPass Portal through https://www.onehealthpass.com.ph/e-HDC/.
The required documents are: vaccine card/any document issued in the host country/jurisdiction showing proof of validation; valid passport or travel document and proof of Overseas Employment such as a verified employment contract, Overseas Employment Certificate, proof of OWWA membership, or other applicable proofs of employment that the concerned POLO may require.
"If traveling with his/her spouse, children and/or parent/s, their application/s shall be submitted online by the returning OFW together with proof of relationship, such as, but not limited to, Certificate of Live Birth, Marriage Contract, Valid Identification Cards or other pertinent documents that POLO Offices may require to submit," the order added. (PNA)