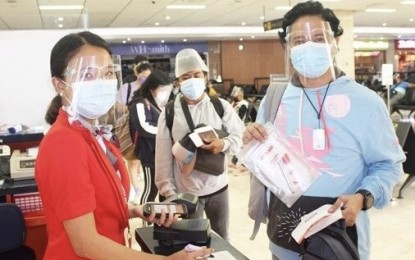 CEBU CITY – AirAsia Philippines is eyeing the full vaccination of employees directly interacting with passengers – pilots, cabin crew, ground staff, and ramp agents – against the coronavirus disease 2019 (Covid-19) by August, its spokesperson has said.
"The big step towards achieving a fully vaccinated airline company is through the help and support of the national government and local government units, which have prioritized those under A4 or essential workers," Steve Dailisan said in a statement Thursday. "Our target is to have all crew inoculated by Q4 of 2021 as we prepare for the strong rebound of air travel in the Philippines."
Dailisan said fully vaccinated personnel, from pilots to cabin crew and ramp agents, manned and assisted two flights on Thursday morning – Z2 775 (Manila-Cebu) with 137 passengers, and 776 (Cebu-Manila) with 140 flyers.
Half of the passengers onboard the carrier were either vaccinated with the first dose or have received their double doses.
Capt. Nielfren Baldo, the pilot-in-command of Z2 775 said vaccinated airline crew should become an added value of protection for flyers.
"As a front-liner, I feel more confident flying our guests to our various destinations, and I have peace of mind whenever I come home to my family because now, I am protected against the severe effects of Covid-19," Baldo said, thanking AirAsia for seeing to it that its employees get inoculated once vaccines are available, regardless of the brand.
To date, 60 percent of 1,500 AirAsia Philippines personnel have been vaccinated against Covid-19.
Cebu, the gateway to Central Visayas, offers more relaxed travel requirements.
Cebu City requires a negative reverse transcription-polymerase chain reaction (RT-PCR) test for leisure travelers, while the component cities of Mandaue, Lapu-Lapu, and Talisay only require confirmed hotel booking upon entry. (PNA)