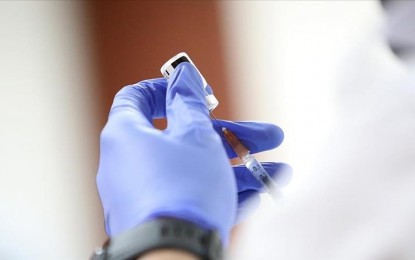 MANILA – Shakey's Pizza Asia Ventures Inc., the country's leading chained full-service restaurant, will provide free 20,000 doses of coronavirus disease 2019 (Covid-19) vaccines to its employees.
"We look forward to rolling out our company-wide vaccination program, through our affiliate company, Century Pacific Food Inc. This is a much-needed program to protect our employees and guests given our service-oriented business," company president and chief executive officer Vicente Gregorio said during the company's virtual stockholders' meeting Thursday.
Gregorio is optimistic the country is already on its way to recovery as the company pursues expansion.
"We are seeing very good progress and we remain very confident that we are on our track so this is how we will address this crisis. We will be about to be ready to expand again and create more opportunities…," he said.
Gregorio said they target to open 30 new stores this year.
"(We) are on track to meet this target as we have already opened 11 net new stores as at end May 2021," he added. "We are happy to report that we are continuing on with our expansion plans."
The company's net income reached PHP40 million in the first quarter of 2021 and net income after tax at PHP29 million.
"As of quarter one, we were already at 67 percent sales recovery," he said. (PNA)