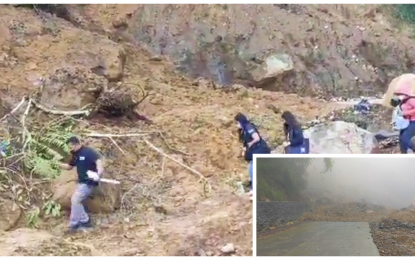 KIDAPAWAN CITY – Workers of a foreign agency helping residents of this city have narrowly escaped being trapped following a landslide along the lone highway that connects Barangay Ilomavis to the city proper.
In an interview here Saturday, Psalmer Bernalte, head of Kidapawan City's disaster response, said 12 workers and officials of the Action Against Hunger (AAH) were almost trapped in Sitio Sayaban in Ilomavis following a landslide on Friday morning.
The AAH is an international non-government organization partner of the city government for the MOVE-UP4 Mindanao Project.
Bernalte said the team went to Sitio Bowkanon, Ilomavis for a project site visitation and monitoring as one of its resilient livelihood beneficiaries.
"However, the onset of heavy rain has caused mudflow and landslide, now totally blocking the Mt. Apo tourism highway," he said.
A series of moderate to heavy rain has been experienced in Ilomavis, a village situated at the foot of Mt. Apo, the country's highest peak.
Bernalte said since May, small and light soil movements have slowly covered portions of the highway, prompting the city government to conduct preventive measures to avoid larger landslides.
"Succeeding landslides and mudslides (caused) by heavy rains though has totally blocked the pavement of the Mt. Apo highway at present," he said.
Bernalte said rescuers are using a small portion of the highway that could be crossed by foot, making for an opportunity to evacuate all stranded individuals, including workers of the Energy Development Corp. geothermal plant in Ilomavis.
"Clearing operations on the highway are ongoing," he said.
Bernalte noted that no individual was hurt during the incident and that the AAH workers are safe at the city proper.
Residents in moderate landslide areas uphill remained safe and calm, he added. (PNA)