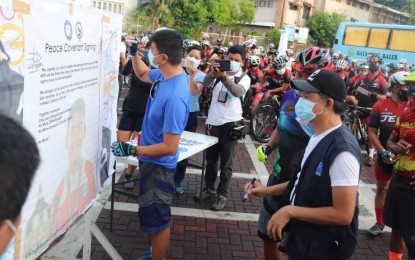 BALER, Aurora – More than 300 residents in this province participated in the nationwide activity dubbed "Bike for Justice and Peace" on Saturday.
Lt. Col. Reandrew P. Rubio, commander of the 91st Infantry "Sinagtala" Battalion, 7th Infantry "Kaugnay" Division Philippine Army, said the event was highlighted with the burning of the Communist Party of the Philippines-New People's Army-National Democratic front (CPP-NPA-NDF) flag and signing of the peace covenant of the participants, who then biked traversing central municipalities of Baler, Dipaculao, Maria Aurora and San Luis.
Rubio said the health protocols were implemented to ensure the safety of the participating individuals.
He said the "Bike for Justice and Peace" was organized to condemn the acts of the CPP-NPA-NDF, particularly the death of cousins Kieth and Noven Absalon in Masbate City 40 days ago. They were killed after an anti-personnel mine of the NPA exploded while they were biking in the area.
"The group strongly calls for justice for all the victims of human rights abuses and atrocities or all their crimes against humanity with the relentless and ruthless violations of the International Humanitarian Law. They declare to stop the CTG's (communist terrorist group) killings, no more CPP-NPA-NDF, and no more communist terrorist violence. NPA no more. I biked for peace and justice," Rubio said.
He lauded Aurora residents by exposing all atrocities of the terrorist groups in the country and manifested his full support for their call for local peace engagements in the rebel-affected communities.
The participants of the event include Aurora Ready Reserve Infantry Battalion of the Philippine Army, Sentrong Alyansa ng mga Mamamayan para sa Bayan, people's organizations, and some sectoral groups.
Other participants were representatives from the provincial government of Aurora, local government units, Baler Municipal Disaster Risk Reduction and Management Office, and the Department of the Interior and Local Government. (PNA)