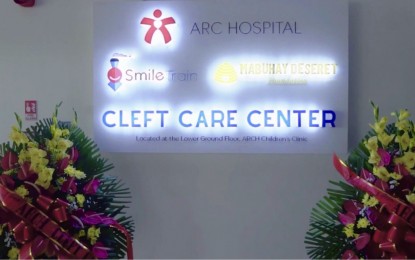 CEBU CITY – Cleft charity group Smile Train on Wednesday launched the first Comprehensive Cleft Care (CCC) center in Cebu in partnership with Mabuhay Deseret Foundation and Allegiant Regional Care (ARC) Hospitals, which is seen to bring hope to those who need palatoplasty surgery and aftercare services.
The launch came in line with Smile Train's 20th-anniversary celebration in the Philippines.
Through this partnership, comprehensive cleft care services will be made more accessible to individuals and families in the region affected by cleft lip and palate.
Since Smile Train first partnered with local medical professionals and hospitals in the Philippines in 2001 and since then, the world's largest cleft organization has achieved several milestones.
"Providing comprehensive cleft care to empower individuals with a cleft, all while putting smiles on their faces is at the heart of what we do at Smile Train. We are grateful for our longstanding partner, Mabuhay Deseret Foundation, and our newly-formed partnership with ARC Hospitals to establish the first Comprehensive Cleft Care Center in Cebu. We are confident that through this partnership, we will be able to reach more Filipinos who have been affected with a cleft and in need of comprehensive support," Kimmy Coseteng-Flaviano, vice president of Smile Train Southeast Asia, said during the virtual media launch.
The cleft charity has been able to partner with over 50 hospitals and organizations and strives to be able to provide its services closer to Filipinos. Through these partners, Smile Train has also been able to support more than 64,000 cleft surgeries nationwide.
Mabuhay Deseret Foundation, a non-profit organization that facilitates medical treatment and care for those in need, including those born with a cleft, has been a partner of Smile Train since 2008.
The ARC Hospital located in Lapu-Lapu City, was established in 2015. It aspires to improve access to quality healthcare in the country by forging partnerships with internationally recognized organizations to be able to provide advance and world-class services to patients.
With the commitment to help Cebuanos in need and the synergy of healthcare experts and the topnotch facilities of ARC Hospitals, the Smile Train Cleft Center is well-positioned to provide safe, quality, and timely comprehensive cleft care services to the community.
Individuals living in Cebu and nearby provinces who are unable to afford cleft care will be able to benefit from these services such as surgery, nutrition support, orthodontic and dental treatment, and speech therapy at no cost.
"We have been a partner of Smile Train since 2008 and have been providing cleft care for patients in Bataan, Palawan, Metro Manila, Cebu, and Davao. We are more than grateful to be a part of this exciting journey and continue to support the organization in reaching more communities in the country," said Melody Ledesma, country director of Mabuhay Deseret Foundation.
"We are grateful for the opportunity to be able to help Cebuanos access cleft care all year round. This partnership will allow all of us to be able to provide timely, safe, and quality comprehensive cleft care treatment for the many patients who are depending on us," said Dr. Alex Alegrado, medical director of ARC Hospitals Inc.
The launch of the Cleft Center marks a new milestone for Smile Train in the Philippines as the organization continues to expand the number of its comprehensive cleft centers across the country as a way to reach more Filipinos in need.
This goes hand-in-hand with the country's first Filipino speech therapy mobile application which Smile Train has launched during the pandemic, as a response to the need of patients and families to receive comprehensive cleft care in the safety and comfort of their homes. (PNA)