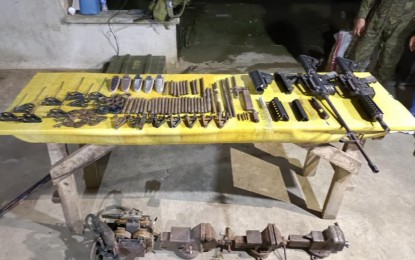 CAMP SIONGCO, Maguindanao – A 13-year-old boy yielded high-powered firearms and other war materials at a military checkpoint in Barangay Nabundas of Shariff Saydona Mustapha town in this province, the Army here reported Thursday.
Maj. Gen. Juvymax Uy, 6th Infantry Division commander, said the incident occurred Monday but was only relayed to them late Wednesday night.
He said a report from Lt. Colonel Cresencio Sanchez Jr., commanding officer of the1st Mechanized Infantry Battalion (1MIB), said the boy was driving a hand farm tractor with a two-trailer at the back when intercepted at the road in Nabundas village.
"The boy apparently appeared to be jittery, prompting military personnel manning the checkpoint to look into his trailer filled with sacks of palay covered with a tarpaulin," he said.
Found in the boy's trailer where a cache of firearms and other war materiel that included two M16 rifles, 38 pieces of M16 rifle barrels, six M14 rifle backplates, two M16 butt plates, other parts for M14 and M16 rifles, one unit melding machine, and three pieces of metal clamps.
Uy said the apprehended minor was turned over to village officials who accompanied the boy to the local police station for investigation.
Uy believes that a lawless group has been using the boy to transport their firearms in anticipation that their "transporter" could easily pass through checkpoints considering his young age.
He commended troopers of the 1MIB for the successful checkpoint operation even as he reminded the soldiers to sustain the government campaign against the proliferation of loose firearms.
"Syndicates behind such activity who use minors to smuggle unlicensed firearms must be held accountable," Uy said. (PNA)