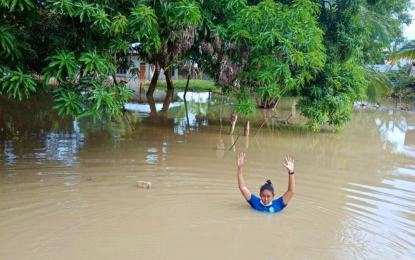 COTABATO CITY – Floods due to intermittent light to moderate rains in the province the past several days have affected thousands of civilians in Pikit, North Cotabato, officials said Thursday.
In a radio interview, Tahira Kalantungan, Pikit disaster risk reduction and management officer, said floods in Barangays Inug-ug, Bagoinged, and Barungis affected some 15,000 residents or 3,000 families.
"Our residents have become resilient, the floods have been with us for decades, every time the Liguasan marsh overflows, many communities here are underwater," Kalantungan said.
Some residents, however, refused to evacuate amid the floods.
"We did not evacuate, we will just wait for the water to recede and we continue with our daily lives," said Arsani Bandali, one of the residents of Inug-ug village, whose house was submerged for the past two days.
She added that floods are neck-deep in some areas.
In May this year, town officials of Pikit have placed 42 villages under a state of calamity due to massive floods.
Kalantungan said the town government is now extending relief aid to affected families. (PNA)