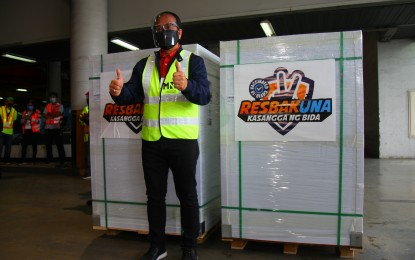 MANILA – Despite inclement weather, the shipment of 1.5 million doses of the Sinovac Covid-19 vaccine arrived without hitch at the Ninoy Aquino International Airport Terminal 3 on Thursday morning.
The delivery brought to 29,985,130 the total number of Covid-19 vaccine doses of the country, including more than 17.5 million doses.
Of the total doses, 16 million are Sinovac vaccines, including one million donated by China.
The government secured 26 million Sinovac shots this year.
As of July 18. more than 15 million doses have been administered nationwide, with 4,708,073 individuals already with full doses.
An average of 271,426 doses was administered daily for the last seven days.
Health Secretary Francisco Duque III and vaccine czar Secretary Carlito Galvez Jr. led the officials who welcomed the shipment.
Galvez told the media that the government is pinpointing crucial areas to prevent a surge in infections and is targeting more vaccination sites to make it more convenient for the public now that the wet season has started.
"Despite the bad weather, people are getting vaccinated and that is a good indication. We hope using malls as vaccination sites will help," he said.
Galvez also said they are investigating a reported incident in Muntinlupa where an alleged storage facility issue resulted in spoilage of vaccines.
"We will investigate what happened but vaccine allotment will continue, especially to meet the requirements of those already awaiting a second dose," he said. (PNA)