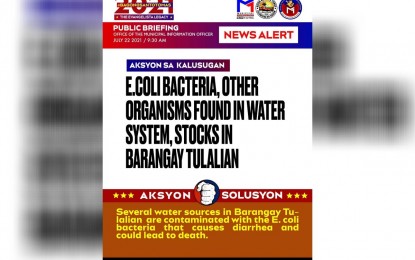 DAVAO CITY – Health authorities in Sto. Tomas, Davao del Norte announced on Thursday that several water sources in Barangay Tulalian are contaminated with E. coli bacteria.
The Sto. Tomas Municipal Health Office (MHO), in a statement, said they found E. coli bacteria in the village's water system which is run by the Tulalian Water Association (TUWASA), a private water service provider in the said village.
E. coli or coliform is bacteria that can be found in human or animal waste and causes diarrhea/bloody diarrhea, vomiting and stomach pains, and cramps.
Dr. June P. Lim, Sto. Tomas town's health officer, said that the stool tests of patients showed that 13 patients suffered cholera, a water-borne ailment that also caused diarrhea to the patients.
"Patients were positive for various bacterias such as vibrio cholerae, enterobacter chorelae, rhizobium radiobacter, aeronomas sobria, providencia alcalifaciens, escherichia coli, aeromonas sobria, klebsilla pneumoniae, among others. The rectal swab was done last July 16 and the result was released by the Provincial Health Office (PHO) - Davao del Norte's Microbiology Section on Wednesday evening of July 21," Lim added.
Lim said laboratory results confirmed that the diarrhea was due to amoebiasis, acute gastroenteritis secondary to E. coli infection, and intestinal parasitism.
Apart from TUWASA, the water source from a water pump in Purok 1, Barangay Tulalian and Longakit Refilling Stations' water stock, were also found to be contaminated with E. coli bacteria.
According to Lim, the MHO had examined the various water sources and stock in Barangay Tulalian last week.
"They took samples and submitted these samples to PHO's Water Bacteriology laboratory for comprehensive analysis. Tests made by the PHO showed the presence of E. coli, or coliform, in three of nine water systems/stocks in the said barangay," he said.
Of the nine water sources and stocks examined, only three had failed in the bacteriology examination performed by the PHO-Davao del Norte while six water refilling stations passed the said examination.
"For now, we discouraged the residents from drinking water if it is not purified or boiled for about 20 minutes in order for the bacteria to die," Lim said. As of July 21, the MHO recorded another 27 diarrhea cases.
Of the 27, 23 patients have mild dehydration, while two were under Hypertension Stage II, and two patients have a systemic viral infection.
Three diarrhea patients also tested positive for the coronavirus disease 2019. (PNA)