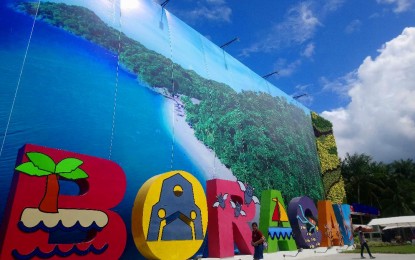 MANILA – Budget carriers Cebu Pacific (CEB) and AirAsia Philippines have seen the value of President Rodrigo Duterte's order to close Boracay Island for six months for rehabilitation in 2018.
"Ordering the closure of Boracay, to rehabilitate the beach and the ecosystem, was a good display of President Duterte's political will. The decision may be unpopular to many, but it was needed to revive Boracay and make it sustainable," CEB spokesperson Carmina Romero told the Philippine News Agency (PNA) in an interview.
In his 2018 State of the Nation Address, Duterte said decisive action to restore Boracay has long been overdue.
The government wanted to restore Boracay's environmental integrity, he said, noting that environmental protection and ensuring the health of the people cannot be overemphasized.
Romero said it was a good decision because the concept of sustainable tourism is on the rise.
There was pent-up interest in Boracay after it reopened to the public on Oct. 26, 2018, she said.
"From October 2018 to October 2019, a total of 2.1 million tourists, mostly coming from China, Korea, and Taiwan, stayed in Boracay. This is equivalent to the number of tourist arrivals in 2017," she said.
Romero said right now, despite the pandemic, tourists continue to visit Boracay.
Strong and sustainable tourism is always good for business, she said, adding that sustainable tourism helps businesses run sustainably too, with few disruptions.
A strong and thriving business also leads to jobs creation.
"We hope the efforts to rehabilitate Boracay will not be wasted. We hope that sustainable tourism in Boracay will continue in the years to come, boosted by strong and consistent support by the government," Romero said.
Boracay's closure has led AirAsia Philippines to take advantage of other local destinations it could serve.
"During the rehabilitation period, from a high of 98 percent load factor (in Boracay), it significantly dropped to 26 percent. This led us to shift and mount additional frequencies for other leisure destinations, such as Palawan, Bohol, Cebu, and Davao," AirAsia Philippines spokesperson Steve Dailisan told the PNA.
The carrier was a market leader in Caticlan pre-pandemic, with 33 percent of its total seat capacity allotted to cater to tourists from Manila, Clark, or Cebu.
"The quick breather allowed leisure travelers to reimagine and rediscover Boracay with its renewed promise of tranquility. This added to the excitement of tourists, both foreign and local, to experience the changes brought by the temporary closure," Dailisan said. "Undoubtedly, the benefits outweigh the costs in terms of long-term gain for environmental protection."
After Boracay's reopening, AirAsia Philippines regained the 98 percent load factor, with thrice-daily frequency for Manila-Caticlan, thrice weekly for Clark-Kalibo, and seven times weekly both for Clark-Caticlan and Cebu-Caticlan.
"If it weren't for the pandemic, we would have all been reaping the benefits of the quick break. It could have resulted in more job generation, not only for the residents of the island but also for other leisure destinations, which could have patterned their rehabilitation plans to Boracay," he said. (PNA)