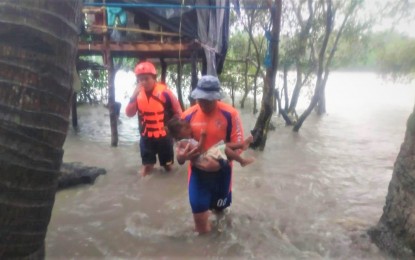 MANILA – The National Disaster Risk Reduction and Management Council (NDRRMC) on Sunday reported three deaths and five injuries due to incessant rains brought about by the southwest monsoon that was enhanced by Typhoon Fabian.
In a radio interview on Sunday, NDRRMC executive director Undersecretary Ricardo Jalad said one of the fatalities, a female, died when a tree fell on their vehicle along Kennon Road on Friday.
Her two companions were hurt.
The other two died after being hit by lightning in separate areas in the Ilocos Region but it has yet to be confirmed when the incidents occurred.

"We have three fatalities and five injured. Based on the report of the Cordillera and Region 1 DRRMC, one fatality was crushed by a fallen tree along Kennon Road. She has two injured companions," Jalad said in Filipino. "The Region 1 (DRRMC) also has a report about a lightning incident that killed two persons."
In the latest situational report, NDRRMC said 19,521 families or 87,493 persons were affected by the effects of the weather system particularly in Central Luzon, Calabarzon, Mimaropa, Region 6, CAR, and the National Capital Region (NCR).
Of the 24,798 persons or 6,064 families displaced, there are 22,263 persons or 5,554 families in evacuation centers while the others sought temporary shelter with relatives.
The disaster bureau said PHP924,666 worth of relief goods were distributed to affected individuals on top of the assistance being distributed by their local government units (LGUs).
Massive flooding, several landslides, and flash flood incidents were recorded in the said regions.
The NDRRMC said the estimated cost of damage to infrastructure was at PHP2,481,000 while the agriculture sector incurred PHP14,593,900 worth of losses.
It said 345 houses were partially damaged while 109 were totally wrecked.
Agri damage
On Saturday, the Department of Agriculture (DA) estimated total damage and losses to Typhoon Fabian at PHP12.38 million.
The DA said at least 855 farmers are affected with volume of production loss at 228 metric tons and 906 hectares of agricultural areas in Central Luzon, Calabarzon and Western Visayas.
Affected commodities include rice, corn, high value crops and livestock. The values are still subject to validation.

The DA Disaster Risk Reduction and Management Operations Center is addressing the provision of aid and other forms of assistance to the affected farmers.

The agency also reported that it still holds 104,471 bags of rice seeds, 11,390 bags of corn seeds, and 1,949 kilograms of assorted vegetables for distribution.
Loans through the Survival and Recovery Loan Program of Agricultural Credit Policy Council are also available, as well as indemnity fund from the Philippine Crop Insurance Corporation.
DA-Cordillera Executive Director Cameron Odsey likewise assured a continuous supply of highland vegetables in the trading centers to supply the needs of the highly urbanized regions, particularly the NCR, amid reports of roadblocks and landslides.
Support groups
The Department of Social Welfare and Development's (DSWD) Disaster Response Management Bureau, in its July 24 report, said the central and field offices have standby funds of PHP849.5 million, prepositioned goods amounting to PHP164.96 million, and other food and non-food items worth PHP668.3 million.
These are readily available to augment the resources of LGUs as part of the DSWD's role as the lead of the Food and Non-Food Item cluster of the NDRRMC.
The same report showed the DSWD has already extended more than PHP1 million worth of assistance in Oriental Mindoro while LGUs initially extended help in Orion and Samal, Bataan; Castillejos, San Antonio, and Santa Cruz, Zambales; Batangas City, Batangas; Santa Cruz, Occidental Mindoro; La Trinidad, Benguet; and in Balbalan, Kalinga.
The Department is also ready to deploy its Quick Response Teams for the provision of technical assistance to LGUs.
Meanwhile, the Philippine National Police (PNP) deployed 1,000 to assist in rescue and relief operations.
It alerted the Battle Staff to muster food bank resources and augment national and local government support for evacuees.
The Highway Patrol Group also fielded mobile units to assist motorists along national highways in navigating through detour routes and to avoid road hazards.
PNP chief Gen. Guillermo Eleazar instructed local units to initiate road clearing operations for hazards and debris to allow unimpeded passage of emergency response vehicles, relief supplies and commercial cargo.
Forecast
The Philippine Atmospheric, Geophysical and Astronomical Services Administration (Pagasa) on Sunday said monsoon rains will prevail over Metro Manila and other parts of Luzon as Fabian, which is already out of the Philippine Area of Responsibility, continues to pull and enhance the southwest monsoon (habagat).
In the 11 a.m. bulletin, the weather bureau said moderate to heavy with at times intense rains will prevail over the Ilocos Region, Abra, Benguet, Zambales, and Bataan.
Light to moderate with at times heavy rains will be experienced in Metro Manila, the rest of Cordillera Administrative Region, Nueva Vizcaya, Nueva Ecija, Tarlac, Pampanga, Bulacan, Cavite, Batangas, Occidental Mindoro, and Calamian Islands. (With reports from Priam Nepomuceno/PNA)