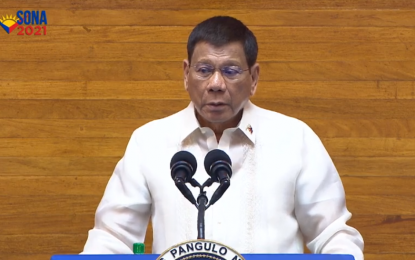 MANILA – President Rodrigo R. Duterte on Monday threatened to order the repatriation of overseas Filipino workers (OFWs) from Arab nations if the controversial Kafala scheme is not dismantled.
In his sixth and final State of the Nation Address (SONA), Duterte renewed his call for the complete abolition of the Kafala system, a sponsorship system that monitors and restricts the movement of migrant workers.
"We call on the world to dismantle the heinous Kafala system because the Filipino is no slave to anyone, anywhere. And there is no room for modern-day slavery," he said.
Duterte reiterated his call for the abrogation of the Kafala, saying the sponsorship system serves as a "set-up for slavery."
"To everybody in the Middle East, I would like to tell them – not only Filipinos but all human beings – the Kafala has no place there because it's a set-up for slavery. I dare you, correct it or we'll ask our workers, Filipino workers abroad, to go home," he said.
Duterte said he would never allow OFWs to be "slaves" in their host countries.
He added that his administration would take care of OFWs, in case he pursues his plan to ask them to return home.
"Sabi ko bahala na kung mahirap lang kami dito. Okay lang (I said, it does not matter if we are poor. That's fine). We will try our very best to make up for what they have lost, what they will lose in the process. But we will never allow them to be slaves," the President said.
Kafala originated from the Arabic word that means "sponsorship".
The Kafala scheme is a mechanism used in Arab countries to monitor, through a sponsor, such unskilled migrant laborers as household service, construction, and service industry workers.
Under the system, the sponsor is usually the employer who is responsible for the immigration status and visa of the migrant worker. Workers are not allowed to leave without their employers' consent, making them vulnerable to abuse.
In a taped video message aired during the April 20 virtual forum on labor mobility and human rights, Duterte said the Kafala system is "unjust" and "exploitative" as it places thousands of migrant workers "in the most vulnerable situation, unseen, unheard, and unable to defend their dignity as a human being."
On April 23, Presidential Assistant on Foreign Affairs, Undersecretary Robert Borje, said Duterte is "quietly" working with state leaders in the Middle East for the scrapping of the Kafala system. (PNA)