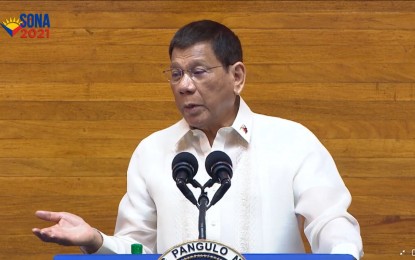 MANILA – President Rodrigo Duterte on Monday enjoined all Filipinos to exhibit the "bayanihan" (teamwork) spirit to arrest the spread of the coronavirus disease 2019 (Covid-19) and experience a "better" normal.
"The spirit of bayanihan (teamwork) and the value of malasakit (compassion) are now indelible in us Filipinos. We shall use these gifts to forge ahead towards a better normal," Duterte said in his sixth and final State of the Nation Address.
While the Covid-19 has crippled people's normal life and the country's economy, the pandemic can be beaten through Filipinos' courage and resilience, Duterte said.
"We need to fight to subdue narrow vested interests and ensure that our gains will [redound] to the benefit of the greater number of Filipinos, especially those who have the least in life," he said.
Duterte ensured that his administration would continue to push for landmark reforms until his last days in office to live up to his promise of giving a comfortable life to all Filipinos.
He added that all workers in government would remain responsive to the needs of the people.
He also encouraged the public to "demand" for the government's "compassion" until they feel "well-fed, educated, healthy, secure, disciplined, and empowered."
"A peaceful and prosperous Philippines is no longer a distant dream but one that is within our grasp if our future Filipinos would also do it -- if would continue the -- if they would continue and would seize the opportunity to work together," Duterte said.
Duterte initially imposed strict quarantine measures in the country when Covid-19 hit the country in March last year.
He later decided to ease the restrictions to pave the way for the gradual reopening of the Philippine economy amid the prevailing Covid-19 pandemic.
As of June 25, the Department of Budget and Management (DBM) has released a total of PHP665.72 billion to support the implementation of various projects, activities and programs in response to the Covid-19 pandemic under the Bayanihan laws.
In addition to this, the DBM has also released PHP73.43 billion from regular funds for Covid-19 response efforts, with PHP13.92 billion already obligated and PHP13.22 billion disbursed. (PNA)