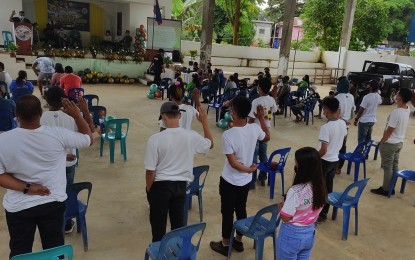 CEBU CITY – President Rodrigo Duterte's campaign against illegal drugs has resulted in much safer communities nationwide including in Cebu and the rest of Central Visayas, a regional anti-drug official said on Tuesday.
Philippine Drug Enforcement Agency (PDEA)-Central Visayas regional director Levi Ortiz said he agreed with Duterte's pronouncement during his 6th and final State of the National Address (SONA) that the government still has a "long way" in its fight against the proliferation of drugs.
Ortiz lauded the President for being serious in the fight against drugs which eventually took a toll on the illicit activities of drug syndicates not only in Central Visayas but in the country, as a whole.
"The big seizures now are a result of the relentless effort of the government in our anti-drugs campaign. In the previous administration, we may have also had accomplishments but it's like playing a cat and mouse game. A never-ending chase. We catch a drug dealer, another one emerges," Ortiz told the Philippine News Agency in an interview.
Under the current administration's clear direction to the law enforcement agencies in terms of drug efforts, the government began seizing large volume of drugs.
"We not only arrest big time dealers and seized tons of drugs, we can also measure our success by the number of barangays we have cleared of illegal drugs. The Barangay Drug Clearing Program (BDCP) provides practical and doable measure to help the barangays become drug-resistant and self-policing and it's a whole of nation approach," Ortiz said.
He said the drug-clearing effort down to the village level is the reason drug personalities are surrendering, a strategy that is actually gaining strides.
He said in his more than 20 years in law enforcement, this was unprecedented, "the first time that drug enforcement is really being given a priority and a significant reduction of drug affectation is really felt by the community."
Ortiz said every Filipino "can see the success in the drug war if you go around the barangays," while pointing out that before there are well known "drug lords" in every region but in the present time, "all of them or almost all of them are neutralized (arrested or dead) or are in hiding".
"Yes, we still have a lot of barangays to clear of illegal drugs in Region 7 but we have achieved much since the President assumed office. The streets are safer and many drug users have volunteered to undergo community-based drug rehabilitation and a lot of well-known drug pushers before are either arrested, in hiding or are dead," he said.
Ortiz said before the Duterte presidency, "there were barangays that were really dangerous to go to but are now safe."
The PDEA as the premier anti-drug agency in the country is not exempt from internal cleansing, in support of the President's wish to rid the government of officials who are either directly involved in the drug trade or at least acting as "protector," he said.
Duterte said in Monday's SONA: "Kaya 'yan ang masakit sa loob ko (This is why I am upset). I did not know that I was fighting my own government. Customs and everyone else were facilitating the importation of drugs. And one importation, as you can see it every night on TV, the police now seize about almost a billion worth of drugs every day."
The President, he said is referring to government officials or personnel who are involved in illegal drug activities.
"That is why even in PDEA we are always monitoring our people and the DG (director general) is doing internal cleansing to weed out the bad eggs in the agency," Ortiz said.
When asked if he believes that there are public officials and employees involved in drugs, Ortiz replied: "Maybe". However, he said that at present, PDEA-7 has not received such reports.
"I hope it stays that way. There are a lot of complaint platforms in social media where citizens can readily report on people involved in illegal drugs. And it's a big help aside from our usual monitoring system in identifying public officials or government personnel involved in illegal drugs," Ortiz said.
Duterte has been continuously getting support from the people in Central Visayas in the fight against drugs, he noted.
Ortiz said that a lot of netizens are reporting drug activities on social media and most of the barangays are also trying their best to clear their area of responsibility against illegal drugs through the BDCP.
In Cebu City alone, 76 out of 80 villages have established a Community-based Rehab Program (CBRP), while 145 barangays in Central Visayas have been cleared of drugs as of June this year. (PNA)