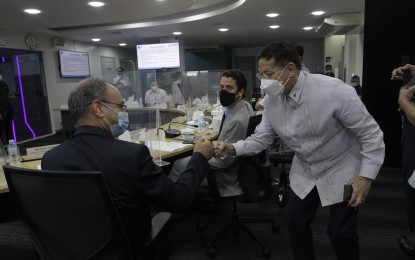 MANILA – The Philippines and Israel's bilateral relations continue to deepen as the two nations increased engagement in combatting the spread of the coronavirus disease 2019 (Covid-19) and preparing for the worst as the Delta variant wreaks havoc in several countries.
"During the pandemic, Israel reached out to the Philippines and tried to assist in different measures. We provided protection equipment for front-liners, we provided learning equipment for the Department of Education, and the highlight was the delegation that came to the Philippines," Embassy Charges d'Affaires Nir Balzam said on Tuesday.
"Israel had different ways before and during our vaccination, even now as we speak the Delta variant is hitting the world and Israel as well, this is why it is more important for us to bring the delegation here. Israel has shown its commitment to the Philippines and we will do whatever we can to assist and share our knowledge," he added.
Four visiting Israeli medical experts, led by infectious diseases and Covid-19 specialist Guy Chosen, met with top Filipino Health officials on Tuesday and discussed how Israel is implementing their strategies to keep the virus at bay and treat patients in severe and critical conditions.
During discussions, Chosen highlighted how Israel was able to manage its cases and minimize hospitalizations with its push to inoculate more citizens.
While there's an uptick in Israel's infections due to the Delta variant, he noted that the fatality rate is relatively low because of their "successful" vaccination campaign.
Health Secretary Francisco Duque III said the visit would further contribute to the two nations' collective goal of "minimizing the loss of life" due to the crisis.
"With the threat of the new Delta variant, now more than ever is the time to strengthen our partnerships and open all channels of communication," he said.
"In our battle against the Covid-19 pandemic, we can only be truly safe when everyone is safe regardless of nationality, religion, cultural background, or social stand. I thank the Israeli delegates for sharing your learnings with us, we continue to build upon our partnership and our mutual desire to minimize the loss of life," he added.
After the conference, Health Undersecretary Leopoldo Vega said the two nations have similar strategies in handling critical cases but there's a lot more to learn in other areas, particularly on Israel's primary care system.
"Our primary care system is not as mature as they are so that's the difference so we'll find out on how best we can actually come up with a better strategy for this," he told the Philippine News Agency.
For the next three days, the delegation will visit several hospitals in Metro Manila and share their recommendation on July 30 at an exit conference.
Chosen arrived in Manila on July 26 together with the three other delegates namely, Shira Peleg, head nurse and nursing manager at the Tel Aviv Sourasky Medical Center's Emergency Department; Eyad Jeries, trauma coordinator at Galilee Medical Center; and Chaim Markos Rafalowski, disaster management coordinator at Magen David Adom. (PNA)