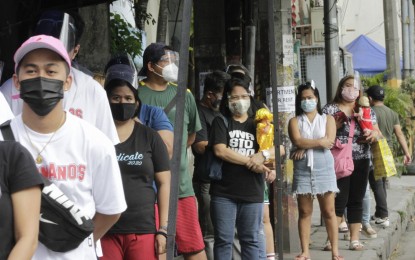 MANILA – The Department of Health (DOH) said there is no definitive evidence of a surge in the National Capital Region despite the observed increase in coronavirus infections.
This, after the OCTA Research Group said the region is "officially in a surge of cases".
In a statement Tuesday, the DOH said it is closely monitoring daily trends and immediately flagging areas with increases in rates of transmission based on two-week growth rates (TWGR), in affected population as per average daily attack rate (ADAR), and health care utilization.
It added it notes the observations of independent expert groups but "maintains that such observations should be carefully verified".
"In terms of our health care capacity, nationally we are seeing low health care and intensive care utilization rate. We are also closely monitoring pending ER admissions," DOH Undersecretary Maria Rosario Vergeire said.
"While we have enough capacity as of now as evidenced by the low-risk HCUR and ICUR, we must continue our preparations to strengthen local health system capacities and further augment the needed resources to maintain these low-risk levels. We need to make sure that we have enough capacity to cope with the demand if cases continue their upward trend," she added.
The latest data analysis by the DOH Epidemiology Bureau showed that the NCR is showing a 19 percent increase in TWGR and ADAR of six cases per 100,000 population, which is at moderate risk.
The cities of Makati, Las Piñas, Pasay, Pasig, Taguig, Paranaque, Manila, Valenzuela, Navotas, Marikina, and Caloocan all have positive TWGR - a trend reversal from negative two-week growth rates in the past three to four weeks.
Also, Makati, Las Piñas, and Pasay have high-risk ADAR.
"We acknowledge that there is an increase of our case metrics which is why we urge people to continue adhering to the minimum health standards and get vaccinated, and for our local government units to strictly implement our protocols," Vergeire said.
Otherwise, she said the daily active cases in the NCR could reach 11,000 by the end of September 2021 based on the projections calculated by FASSSTER with the assumption that the Delta variant is 60 percent more transmissible. (PNA)