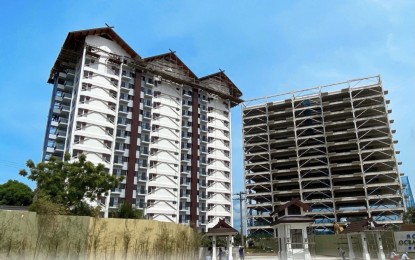 CEBU CITY – Mactan Island, which is home to the international airport, is seeing an uptick in demand for condominium units despite the coronavirus pandemic, a real estate industry leader here has observed.
"The lockdown last year greatly affected businesses but surprisingly sales for condo units picked up, quite significantly considering the challenging times," Ramero Espina, vice president for sales and marketing of Cebu-based builder Primary Homes Inc. (PHI), said in a press briefing on Wednesday afternoon.
A surge in demand for value-for-money condominium units is bolstering the sales performance of homegrown developers here, he said.
Despite the difficulties and uncertainties brought by the coronavirus pandemic, Espina said they saw a high take-up of units in their company's new resort condo project -- the Royal Oceancrest Mactan -- an indication there is a strong demand these days for such types of properties.
This PHP2-billion residential development is performing well above expectations with more than 60 percent sold at the height of the pandemic, he said.
"With billions worth of new industrial and world-class developments, Lapu-Lapu City is arguably the perfect choice to settle or invest in Cebu," he added.
Potential as property hub
Mactan is potentially growing as an attractive real estate hub in Cebu, buoyed by the modern international airport here, the soon-to-finish Cebu-Cordova Link Expressway (CCLEX), export zones, first-class resorts and hotels, export-oriented manufacturing companies, and business process outsourcing companies setting up shop in the city.
Sought for comment, Joey Bondoc, associate director for research at Colliers International Philippines, said they see pivotal infrastructure projects such as the CCLEX and the Metro Cebu Expressway stoking residential condominium demand in Cebu.
"These public infrastructure projects should help attract more developers and investors in acquiring parcels of land around these major projects," the property analyst said.
As the country continues to manage the challenges brought by Covid-19, Bondoc said investors and end-users in Cebu will likely remain interested in investing on properties within integrated communities.
Espina said most of the property buyers now are young professionals and starting families either looking for affordable living space that they can move in right away, or those who are looking for more valuable purpose for their money.
They are generally first-time real estate buyers, including working professionals and those eyeing to do business in the city and looking for an attractive location for property investments.
Pent-up demand
By the end of 2025, Colliers sees total condominium stock in Metro Cebu reaching 73,900 units, up 48 percent from the inventory at the end of 2020.
Colliers believes that completion of residential units in Metro Cebu is likely to pick up this year.
In Cebu's pre-selling market, the global realtor projects a slight recovery as developers prepare for pent up demand beyond 2021.
"We believe that demand for residential units in integrated communities is likely to continue despite Covid. Hence, we recommend developers further explore the feasibility of township developments. Developers should also consider fringe areas for house and lot projects and maximize new infrastructure as Cebu is a major beneficiary of the government's massive infrastructure push," Bondoc said. (PNA)