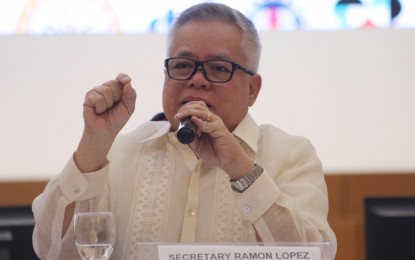 MANILA – Department of Trade and Industry (DTI) Secretary Ramon Lopez has thanked President Rodrigo Duterte for approving the recommendation of the Inter-Agency Task Force for the Management of Emerging Infectious Diseases (IATF) to put Metro Manila and nearby provinces under general community quarantine (GCQ) with heightened restrictions.
"The economy cannot bear another massive lockdown. We lose around PHP30 billion for a two-week lockdown. Many lost their jobs, livelihood, most of them are micro (and) SMEs (small and medium enterprises)," Lopez said during the Laging Handa public briefing Thursday.
He said the recommendation of placing National Capital Region (NCR) Plus under GCQ with heightened restrictions is in accordance with the IATF's consultations with reliable health experts.
"We really take a balance, a holistic approach," he added.
Lopez underscored that the IATF enforces restrictions amid the threats of the more infectious Covid-19 Delta variant.
But the restrictions are focused on 'super spreader' activities like mass gatherings, while lockdowns will remain a granular lockdown approach, the DTI chief said.
He also called on businesses to create their own health and safety committee that will ensure minimum public health protocols are being monitored and maintained in their respective establishments.
Ensuring a good ventilation in establishments will also help in mitigating the risk of contracting the virus, he added.
Lopez also emphasized the need to fast-track vaccination efforts throughout the country to protect Filipinos amid the threat of the Delta variant.
"What is key is we allow the economy to reopen in a safe and very calibrated way, but we make more restrictions on non-essential activities and mass gatherings and definitely, no 'super spreader' activities," he told reporters in a text message. (PNA)