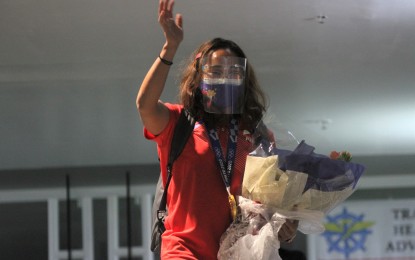 MANILA – Another megabucks prize awaits Hidilyn Diaz.
The Philippine Sports Commission (PSC) announced on Thursday that it will give the Olympic gold medalist PHP5 million for her other feat on Monday night.
Diaz broke the Olympic records for the clean-and-jerk and the total lifted weight for the women's 55-kilogram weightlifting event.
Diaz clinched the Philippines' first ever Olympic gold in style after clearing 127 kilograms in her final lift, setting the quadrennial meet's record for the event.
In total, she lifted 224 kilograms, also an Olympic record.
Diaz just missed out on setting the Olympic record in the snatch after failing to lift 99 kilograms, letting Uzbekistan's Muattar Nabieva take the honors after clearing 98.
PSC commissioner Celia Kiram, who is assigned as the officer in charge while Chairman Butch Ramirez is in Tokyo for the Olympics, confirmed that the cash bonus has been approved for release.
The PHP5 million is on top of the PHP10 million cash rewards from the national government as mandated by law, PHP2.5 million from hometown Zamboanga, and PHP3 million from President Rodrigo Duterte.
During her virtual courtesy call on the President, Duterte also announced that he will also give Diaz a house and lot in Zamboanga and would also confer the Presidential Medal of Merit, "one of the highest of the nation's presidential medals," on Diaz through an "appropriate" ceremony.
Diaz is also set to receive more rewards like monetary perks from business tycoons, brand new houses and condominium unit, and even free food and food stall franchise.
The MVP Sports Foundation of telecommunication tycoon Manny V. Pangilinan has approved PHP10 million for Filipino gold medal winners while San Miguel Corporation (SMC) of Ramon S. Ang said it would also give PHP10 million for Olympic gold medalists.
Businessman and House Deputy Speaker Mikee Romero has also pledged PHP3 million for gold medalists.
Ayala Foundation is giving the "Atletang Magiting" recognition and top of the line car KIA Stonic as a gift of gratitude to Diaz. (PNA)