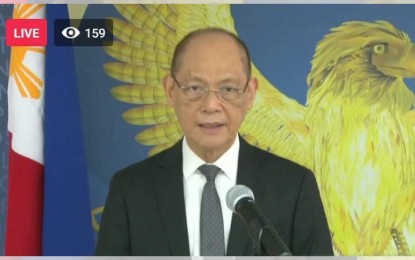 MANILA – Digitalization and financial inclusion are the foundations of the "New Economy", Bangko Sentral ng Plipinas (BSP) Governor Benjamin Diokno said, citing their benefits to more Filipinos.
"Why finance digitalization? Financial technology makes transactions easier and faster, which in turn, speeds up income. It also makes financial products and services accessible to a greater number of people, which in turn, enhances financial inclusion," Diokno said Friday in his speech during the 2021 Outstanding BSP Stakeholders Appreciation virtual ceremony.
Diokno said the central bank has been pushing for digitalization of financial transactions even before the pandemic, with the goal to have at least half of these transactions done digitally.
He said BSP also aims to have about 70 percent of Filipino adults have their own financial accounts by 2023.
During the pandemic, digital payment transactions using electronic fund transfers facilities like InstaPay and PesoNet surged following the lockdown measures implemented by the government.
Diokno said InstaPay transactions increased by 155.4 percent year-on-year in May 2021 while PesoNet transactions rose by 22 percent.
These facilities are the two real-time electronic payment systems under the central bank's National Retail Payments System (NRPS).
Diokno said more than 8 million electronic accounts were created last year and monetary authorities expect more to be opened this year as more players enter the market.
"The establishment of digital banks will bring about greater efficiency and extend the reach of financial products and services among the unbanked, including MSMEs (micro, small and medium enterprises)," he said.
The use of QR codes have also been boosted after the central bank launched its person-to-merchant (P2M) program, he added.
"Compared with using point-of-sales terminals, QR technology presents small merchants with a simple and more affordable payment facility," Diokno said.
The Philippine Identification System (Philsys) is also a plus to the financial inclusion bid since "this will address the lack of identity documents which is among the most common barriers to account opening," he said.
These measures are expected to boost the economy's recovery and ensure the achievement of the central bank's financial inclusion and digitalization bid.
The pandemic resulted in the negative output of the economy last year but Diokno said green shoots have started to come out since the third quarter of 2020.
"It has been more than a year since the pandemic began, and, with cautious optimism, we can say that the worst is over," he added.
Signed into law by President Rodrigo Duterte in August 2018, Republic Act 11055, or the PhilSys Act, aims to establish a single national ID for all Filipinos and resident aliens.
The national ID shall be a valid proof of identity that shall be a means of simplifying public and private transactions, enrollment in schools, and the opening of bank accounts.
It will also boost efficiency, especially in dealing with government services where people will only need to present one ID during transactions. (PNA)