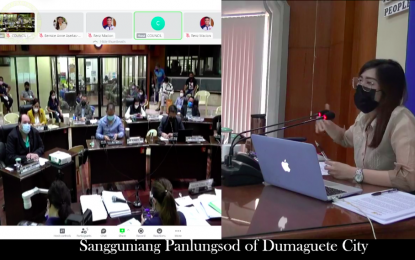 DUMAGUETE CITY – A special city council session on the controversial proposed PHP23-billion reclamation project here on Monday has been moved to next week after a councilor tested positive for the coronavirus disease 2019 (Covid-19).
Vice Mayor Karissa Tolentino-Maxino announced via social media on Sunday that the body would instead hold the special session on Aug. 9 as all councilors and staff are scheduled to undergo a reverse transcription-polymerase chain reaction (RT-PCR) test on Monday.
This, after Councilor Manuel Sagarbarria posted on his Facebook page also on Sunday that he tested positive for Covid-19.
He said that despite being fully vaccinated, he "got hit with the virus" and is experiencing mild symptoms.
Sagarbarria said he started feeling tired last Wednesday. Livestreamed session of the city council that day showed he was in and out of his seat, "taking breaks".
The following day, he had a high fever, isolated himself, and had himself swabbed.
The RT-PCR test result released on Saturday showed he was positive for the virus.
Sagarbarria appealed to the people to not let their guard down despite being vaccinated against Covid-19.
The special session calendared for Aug. 2 is supposed to discuss the statements from various groups and individuals opposing the 174-hectare reclamation project proposed by Quezon City-based E.M. Cuerpo, Inc.
The city council has granted authority to Mayor Felipe Antonio Remollo to enter into a memorandum of agreement with the firm.
Opposition groups from the academe, church, environmentalists and scientists, and the youth sectors are seeking the stoppage of the project because of its alleged legal, moral, environmental, and other impacts on the city and its people.
Remollo, on the other hand, reassured that proper procedures would be strictly followed on the project, but said on a national radio interview that he was willing to junk it if there would be a valid basis to do so. (PNA)