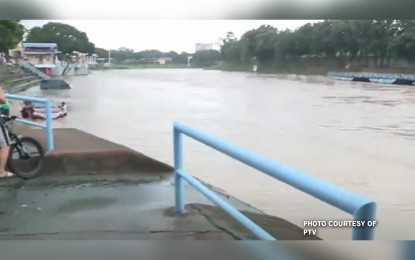 MANILA – Marikina River and other waterways in Metro Manila can still overflow even if generally fair weather is likely in the area this week.
Rain from expected thunderstorms in Metro Manila may cause the waterways' water to rise, spill over and flood surroundings, noted Philippine Atmospheric, Geophysical and Astronomical Services Administration (PAGASA) hydrologist Edgar dela Cruz on Monday.
"Some of those thunderstorms can bring rainfall that'll significantly increase water in waterways -- making overflows there still possible," he said.
He said people must monitor PAGASA's advisories regarding thunderstorms that may affect their areas so they can prepare accordingly.
In its latest outlook for this week, PAGASA forecast generally fair weather in Metro Manila until around Friday (Aug. 6).
PAGASA, however, isn't discounting the possibility that isolated rain showers and thunderstorms may also occur in Metro Manila mostly during afternoons and evenings.
Marikina City local government unit (LGU) said Marikina River overflowed early Monday morning (Aug. 2) with water reaching the jogging lane there.
Downpour the night before significantly raised Marikina River's water level so it eventually overflowed, noted dela Cruz.
"Overflows can happen again there and even in other waterways," he said.
The downpour that affected Marikina River this week was particularly intense in Rizal province's Rodriguez municipality, he noted.
Formerly known as Montalban, Rodriguez lies at the foot of Sierra Madre mountain range and is where Marikina River has its headwaters.
Marikina River is among waterways under government-led rehabilitation to help improve water flow and water-carrying capacity there. (PNA)