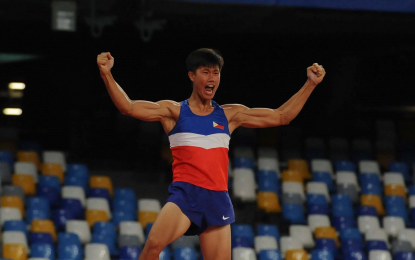 TOKYO – EJ Obiena is out to pick up from his crucial final vault in the qualifying Saturday as he goes for Olympic glory in the men's pole vault finals tonight (August 3, 6:20 p.m.) at the Japan National Stadium.
In his third and final attempt in the qualifying, Obiena cleared 5.75m to join 11 others in the showdown for the ultimate prize. For Team EJ, the last vault is all that matters.
"Erase na yung nangyari sa qualifying (What happened in qualifying is now erased), back to zero, start from scratch," said coach Emerson Obiena, pointing out his son is determined to make up for his disappointing start Saturday.
"Relieved ako noong nasukat na ni EJ at more relaxed na siya sa last jump (I felt relieved that EJ has finally got his rhythm and more relaxed in his last jump)."
The Pinoy vaulter said he's "chillin" ahead of his big day in the national stadium.
He overcame sluggishness in the qualifying to hit 5.75m. But the fight for the gold is likely to go way above 6.00, meaning Obiena has to surpass his personal best of 5.87 if he's to make a podium finish.
Obiena battles a star-studded cast led by world record holder Armand Duplantis of Sweden and Rio Games champ Thiago Braz in pursuit of a special place in Philippine sports history.
Ukrainian coach Vitaly Petrov will be at the sidelines in the ultimate showdown.
"I'll talk to coach Vitaly for the game plan," said Obiena.
The Filipino bet will be No. 11 in the order of play after ranking fifth in his group in the qualifying round behind Kc Lightfoot of the United States, Kurtis Marschall of Australia, Renauld Lavillenie of France, and Emmanouil Karalis of Greece.
Also in the final cast are Menno Vloon of the Netherlands, Christopher Nilsen of the USA, Bo Kanda Lita Baehre of Germany, Harry Coppell of Great Britain, Oleg Zernikel of Germany, Ersu Sasma of Turkey and Piotr Lisek of Poland. Zernikel was the last final qualifier from Obiena's group, making 5.65m.
Qualifying from Group B were Baehre, Nilsen, Duplantis, Vloon, Braz and Lisek all at 5.75 and Coppell and Sasma at 5.65.
Duplantis is the man to beat, being the world record holder of 6.18 with a season-best of 6.10. Braz (6.03), Lisek (6.02) and Lavillenie (6.16) have also breached the 6.00m mark, making them among the top medal contenders. (PR)