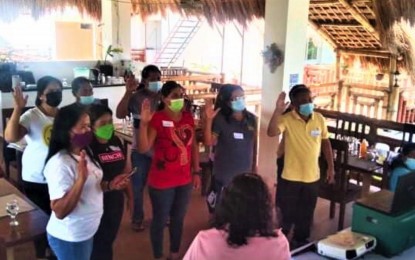 CEBU CITY – The Department of Labor and Employment has organized the first livelihood association of rural workers in Central Visayas.
The Sustainable Livelihood Association of Negros Oriental (SULANO) is the first of the many to come as the agency takes bold steps in organizing and federating existing DOLE-registered and recognized associations and groups.
SULANO is composed of 20 workers' associations that have formed part of the region's Sustainable Livelihood Framework (SLF), a DOLE strategic approach towards the effective and efficient implementation of its livelihood or "kabuhayan" program.
Among the members of SULANO are the Tambulan Agrarian Reform Community Association; Bateria Livelihood Association; La Libertad Multi-Purpose Cooperative; Manseje Farmers Association, Inc.; and CLA-Malamboon.
The New Namangka Farmers Association is also a member of the group, together with Luyang Cluster Level Association; Lumad Nagkahiusang Association sa Barangay Jilocon; Community Ajong Multipurpose Cooperative; Calindagan Fishermen Association; Dauin Vegetable Growers Association; and Bato Basak Farmers Association and Rural Improvement Club.
Other farmers association under the group are Kampo Farm Association; Zamboanguita Small Coconut Farmers Cooperative; Casalaan Casaksakan Farmers Association; Tayawan Women Livelihood Association; Bayawan Dairy Farmers Cooperative; Kalumboyan Rural Improvement Club; and Bolbog Small Farmers Beneficiaries Association.
Salome Siaton, DOLE-7 regional director, told reporters here on Tuesday that the purpose and importance of organizing sustainable associations and other groups is for the DOLE to easily connect and assist them with their needs.
Siaton encouraged the SULANO officers and members to start planning for the next five months and for the succeeding years.
"This organization should live and should come up with realistic and doable plans by way of sharing each other's experiences and best practices. To the leaders, you should be able to establish a clear direction for the group. Identify where you are going and how you will be able to get there," she added.
Siaton also urged the group to come up with their vision, mission, goals, and objectives.
The SULANO will be part of the many other federations and organizations to be created in Central Visayas.
Putting emphasis on how fast communication would be able to reach intended groups and associations when federated or organized, Siaton said she would also encourage the same with the rest of the groups that have been recognized by DOLE, such as the contractors and sub-contractors registered by the agency.
"Although member associations and groups are independently going about their separate undertakings, however, as one, they could also work together to be able to achieve bigger and better results," the labor official said.
To date, Region 7 also has an existing federation of family welfare committees of establishments coming from different industries, which is the Central Visayas Family Welfare Federation. (PNA)