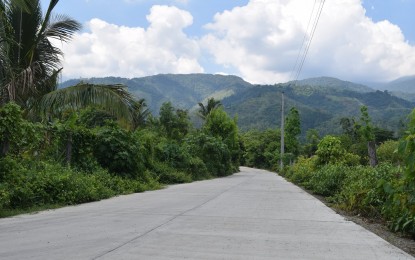 CITY OF SAN FERNANDO, Pampanga – The Department of Public Works and Highways-Nueva Ecija 2nd District Engineering Office has completed various infrastructure projects that have started to benefit residents and mitigate the flooding problem in the towns of Bongabon, Gabaldon, and San Leonardo in the province.
Engr. Eduardo V. De Guzman, caretaker of the Office of the District Engineer, on Wednesday said the projects were implemented in support of the province's ongoing recovery efforts from the effects of the coronavirus disease 2019 (Covid-19) pandemic and to further improve the lives of Novo Ecijanos.
He said the newly-completed infrastructure are flood control and road concreting projects.
For several years, De Guzman said that low-lying areas in the province's third district have been flooded whenever rivers and creeks in Bongabon and Gabaldon would overflow or rise above normal levels during the typhoon season.
"Aware of the adverse effects of flooding on people's lives, properties and livelihoods, we have built the first line of defense in the major tributaries of the Pampanga River that traverse Nueva Ecija to mitigate the damages brought about by severe flooding," he said in an official social media post.
The DPWH official said the two recently completed flood control projects along the Digmala River in Bongabon have a total length of 508.8 lineal meters and cost PHP53.56 million.
Likewise, he said a total of 2.03 kilometers of unpaved roads were concreted in the two towns. The PHP16-million projects are expected to improve mobility in the rural barangays of Vega and Pesa in Bongabon, and Macasandal in Gabaldon.
Meanwhile, de Guzman said two farm-to-market road projects were also completed in the towns of San Leonardo and Gabaldon.
Funded under the DPWH-Department of Agriculture (DA) convergence program, the two road projects have a total budget of PHP19.82 million.
"We acknowledge the vital role of infrastructures in the economic growth of the province that is why we are keen to implement projects that make a significant impact not only to the economy but also on the lives of our stakeholders," de Guzman added. (PNA)