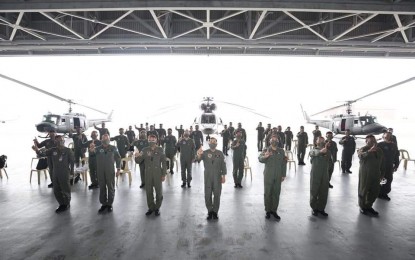 MANILA – The Philippine Air Force (PAF) formally commissioned and put back into service six previously non-operational helicopters.
In a Facebook post on Wednesday night, Air Force commander Lt. Gen. Allen Paredes said three PZL W-3A "Sokol", two Huey II, and a Super Huey helicopters were commissioned in a short ceremony at the Clark Air Base, Angeles City, Pampanga Wednesday.
These aircraft were repaired and put back into service.
"With the limited number of transport helicopters due to the decommissioning of the aging UH-1 helicopters, these platforms are (a) welcome addition to the heli-lift fleet of the PAF in its continuous and unflinching service to God, country, and people," he added.
The PAF's UH-1 "Huey" combat utility helicopters were decommissioned following the January 16 crash in Bukidnon which killed five military personnel and two militiamen.
In a related development, Defense Secretary Delfin Lorenzana commended the Air Force for the launching of its PAF Safety Management System (SMS) Manual at the PAF 74th founding anniversary commemoration in Villamor Air Base, Pasay City last July 30.
"Most importantly, I commend the Philippine Air Force for putting (a) premium on safety through your Safety Transformation for Enhanced Performance and Unit Preservation or STEP UP Program, you now have the PAF Safety Management which adopts principles and standards of the International Civil Aviation. Keep in mind that you are an indispensable part of the One Defense Team. We stand united with the AFP and the DND in purpose and action," Lorenzana said.
The PAF SMS Manual replaces the old Safety Program Manual which dates back to 1966 and 1986. (PNA)