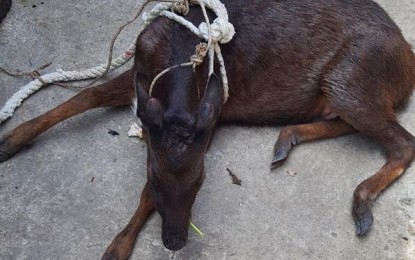 TACLOBAN CITY – Local authorities in Northern Samar are eyeing to breed the endangered Philippine deer after fishermen rescued the animal while being chased by sharks in Lapinig, Northern Samar.
The Community Environment and Natural Resources Office (CENRO) and the local government of Lapinig town are currently looking for partners to help increase the population of the endangered animal, an official said on Friday.
"We hope that entities or anyone will provide a female Philippine deer so we can start the breeding soon," said Dennis Ariño, conservation and development section chief of the CENRO based in Pambujan, Northern Samar in a phone interview.
The mature male deer is now under the care of Lapinig local government for potential breeding under the "Adopt a Wildlife Program." The local government is capable of adopting the endangered animal, Ariño said.
On Aug. 3, two fishermen rescued the male deer while swimming in the coastal waters of Lapinig town being chased by sharks. Exhausted from swimming, the elusive deer clung to the boat outrigger.
"We were surprised that a deer was found in the seawaters since its habitat is not in lowlands. The Philippine brown deer generally thrives in a terrestrial environment from sea level up to at least 2,900 meters. It prefers to forage in grasslands under primary and secondary forests," Ariño told the Philippine News Agency.
Citing reports from the local police, the official believes that frequent armed encounters between government forces and rebels in the mountains have driven the deer downhill.
The deer measures 1.20 meters in length and .80 meters in height and weighs roughly 30 kilograms. They are known to be fast runners and can also swim long distances at about 15 miles per hour.
Their strong leg muscles and coat help them float, swim and even cross oceans if needed to look for food or seek shelter.
If the rescue was not reported to authorities, the deer could have been slaughtered and sold at PHP300 per kilogram, according to Ariño.
The Philippine deer is considered an endangered species under Republic Act 9147 or the Wildlife Resources Conservation and Protection Act. (PNA)