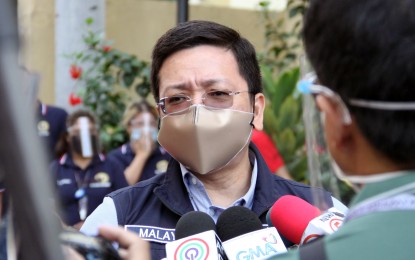 MANILA – An official of the Department of the Interior and Local Government (DILG) has apologized to Manila Mayor Francisco "Isko Moreno" Domagoso over the show-cause order (SCO) it has issued against him over the city government's lapses in the anti-illegal drug campaign in 2018.
"Since the office of Undersecretary (Ricojudge Janvier) Echiverri admitted the mistake, on behalf of Usec. Echiverri, we would like to extend our apologies to Mayor Isko Moreno for the erroneous SCO issued by Usec. Echiverri's office," DILG spokesperson, Undersecretary Jonathan Malaya said in a Laging Handa briefing on Friday.
In a memorandum addressed to the DILG-National Capital Region released on Friday, Echiverri ordered the withdrawal of the SCO dated July 9 against Domagoso which flagged the Manila city government over its "failure in the Anti-Drug Abuse Council audit" for 2018, saying it was an "inadvertent issuance".
Domagoso assumed as Manila mayor in June 2019, succeeding incumbent mayor and former President Joseph Estrada.
Malaya also denied that the matter has something to do with politics.
"Usec. Echiverri has explained that it was an honest mistake. There is no political motivation that must be linked to it. We at the DILG are fair, unbiased, and transparent and we try our best to be honest. We are truthful in saying that when we found out that it was issued inadvertently, we have immediately taken steps to rectify it," he added.
In a separate message, Interior Secretary Eduardo Año said the agency's personnel who mistakenly listed Domagoso's name in the SCO were reprimanded.
"That show cause order was intended for the past mayor (Joseph Estrada) since the performance audit was for the year 2018 while Mayor Isko assumed only in June 2019. The show-cause order has been recalled and Mayor Isko does not have to answer it," Año said.
The DILG chief added that the employees who crafted the order only made an honest mistake and were admonished with a stern warning. (PNA)