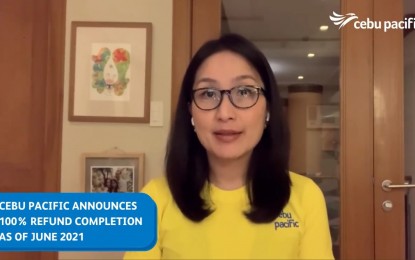 MANILA – Low-cost airline Cebu Pacific (CEB) on Friday said it has already issued PHP7.7 billion for refund requests filed until June this year, and is urging customers to check their remittance.
Michelle Lim of CEB Corporate Communications said the refund covers all coronavirus disease 2019 (Covid-19)-related flight cancellations since 2020.
In a video message posted on CEB's Facebook page, vice president for marketing and customer experience Candice Iyog said the airline has successfully completed 100 percent of the refund requests.
"So please remember to check with your issuing bank and travel agencies for the remittance of your refund," she said.
Iyog noted that the "100 percent refund completion rate" excludes requests made through travel agencies that may have stopped operations, as well as refund requests with incomplete bank information.
"We are actively reaching out to our customers who have yet to get their refund through the contact information provided to us at the time of booking. We would like to encourage them to contact us through the guest feedback form on the Cebu Pacific website," she said.
She added that the airline will continue to listen to the guests' feedback, and keep getting better so it can deliver the best experience for passengers.
About 991,764 refund requests have been processed, according to CEB. (PNA)