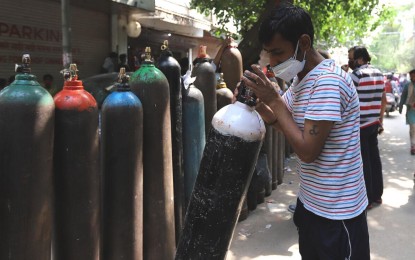 MANILA – President Rodrigo Duterte is considering talking with Congress to discuss giving tax relief to manufacturers of medical grade oxygen.
During his pre-recorded Talk to the People aired Monday, Duterte said the country really needs a lot of medical-grade oxygen supply, which he described as a "vital component" amid the Covid-19 pandemic.
He also praised the oxygen manufacturers for continuing their production during these trying times.
"We really need many supplies of oxygen. If it really goes out of control, we would need all the oxygen that they can produce for the people," Duterte said.
Duterte noted the importance of having sufficient medical-grade oxygen in the country, particularly now that the threat of the dreaded virus is more alarming.
"When the first wave hit us, we had shortages of oxygen. That's why these manufacturers must be given licenses. If everything is in order, give the license right away to manufacturers," he said.
Apart from providing them the licenses, Duterte is also eyeing to give the manufacturers a tax relief for their production of medical-grade oxygen.
"Maybe, I'll talk to Congress to provide you a tax relief on your manufacturing, for you are producing a very vital component in the fight against the Covid-19 and the Delta variant," he said.
Food and Drug Administration Director-General Eric Domingo said there are a total of 81 licensed manufacturers of medical-grade oxygen in the country. (PNA)