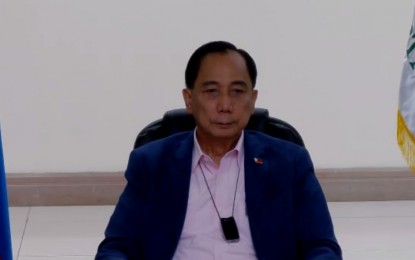 MANILA – The Department of Agriculture (DA) has adjusted the country's agricultural growth target this year to 2 percent from the earlier announced 2.5 percent.
"Before, our projection is 2.5 percent, but with the continuing two pandemics affecting the country -- Covid-19 (coronavirus disease 2019) and African swine fever (ASF)-- we have set it to 2 percent growth target this year," Agriculture Secretary William Dar said during the virtual forum of the Economic Journalists Association of the Philippines (EJAP) on Wednesday.
Philippine Statistics Authority (PSA) data showed that the contraction of Philippine agriculture this second quarter of 2021 is only .1 percent.
Dar said this slight contraction shows that the country's economy is recovering but nowhere near before the Covid-19 pandemic.
He added there are indications in several sub-sectors of agriculture that the new target is achievable.
"Drivers of this growth shall be in the crop sector, we are hoping na madoble pa ang output sa rice (we hope that we can double the rice output)," Dar said.
Palay production during the first semester recorded some 8.8 million metric tons (MT) which is the highest in the country's history.
PSA data indicated that this figure is 4.9 percent more than in 2020, for the same period.
The PSA said the crops sub-sector, which contributed 56 percent of the total agriculture output for the second quarter (Q2) of the year, was bannered by palay and corn, which grew by 1.2 percent and 6.3 percent, respectively.
Consequently, the crop sub-sector recorded 3.1 percent growth while the poultry sub-sector showed a 2.5 percent increase in the second quarter of 2021 as per data from the PSA.
However, these were not enough to pull up the overall performance of the agri-fishery sector, which dipped by 1.5 percent.
The negative growth was attributed to the respective decline in the value of livestock and fisheries production, at -19.3 percent and -1.1 percent, respectively.
"Expectedly, the livestock sub-sector, particularly the swine industry, has pulled down our composite agri-fishery performance, due to the ASF, whose incidence is already waning," Dar said.
"Rest assured that we will continuously and vigorously implement the Bantay ASF sa Barangay and its twin hog repopulation program, in partnership with the local government units (LGUs), hog raisers' groups and the private sector to revive the country's swine industry," he noted.
In earlier reports, the DA said several ASF-affected areas in Batangas were recently declared free from the disease, and many more are expected to follow suit.
By the end of August 2021, a report on the efficacy of the ASF vaccine that has been tested in various commercial farms in Luzon will be released. (PNA)