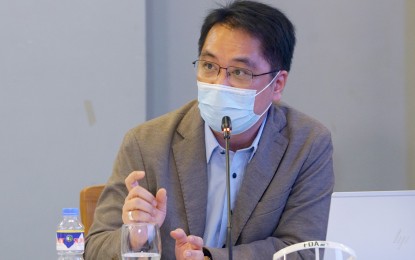 MANILA – The head of the Food and Drug Administration (FDA) on Friday assured that there is no shortage of medical-grade oxygen tanks in the country, saying the use and hoarding of unprescribed oxygen tanks may lead to injuries or death.
In a virtual briefing, FDA Director-General Eric Domingo said there has been no shortage of oxygen tanks in any part of the country, with the Department of Trade and Industry (DTI) reporting that less than 50 percent of the manufacturing capability of oxygen plants are in use.
Medical-grade oxygen, he said, is classified as a drug under FDA Circular 2014-018 as it is required to be 99 percent pure and must be intended for "therapeutic, diagnostic, or prophylactic purposes."
"Number one gas na nila-license ng FDA na gas ay oxygen. At yung pressurized na tank kung saan siya nakalagay, yung packaging niya, ina-approve at nire-regulate din ng FDA (The number one gas licensed by the FDA is oxygen. And the pressurized tank where it is stored, its packaging, are approved and regulated by the FDA)," Domingo said.
He called on the public to stop hoarding or storing oxygen tanks at home as, aside from possibly causing a shortage for those in need, its improper usage may cause "irreversible health damage."
"Meron pong toxicity ang oxygen at pwede ma-injure actually ang ating baga kapag gumagamit tayo ng high concentration oxygen or ng pure oxygen nang hindi tama ang pagkakagamit nito (Oxygen has toxicity and our lungs can get injured if we use high-concentration oxygen or pure oxygen incorrectly)," Domingo said.
Moreover, he said, oxygen is "highly combustible" and "flammable" and should not be stored at home to avoid catastrophic accidents.
"Pwede po talagang sumabog yan, lalo na kapag nakatago sa high-pressure na tank. Daig po niyan ang LPG, mas malakas po ito (It can explode, especially if stored in a high-pressure tank. It is worse than liquefied petroleum gas. It is more powerful)," Domingo said.
He said the sale of medical-grade oxygen requires the prescription of a licensed physician and should not be sold for standby purposes.
"So pinapakiusapan po (a)ng ating mga doktor magre-reseta lamang ng oxygen kapag talagang kinakailangan ng pasyente. Lalo na yung for home care (We are asking our doctors to only prescribe oxygen tanks if it's really necessary for the patient, especially for home care)," Domingo said.
On Wednesday, the Department of Health (DOH) urged the public to refrain from hoarding medical oxygen tanks to prevent an artificial shortage amid the pandemic.
As a means to ensure the continued supply of oxygen and other medical supplies, Albay Rep. Joey Salceda filed a measure to exempt these from taxes in response to President Rodrigo Duterte's request to provide tax relief to manufacturers of medical-grade oxygen. (PNA)