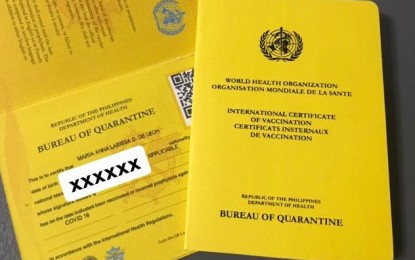 LEGAZPI CITY – Overseas Filipino workers (OFWs) should be spared from paying the fees for the international vaccination certificate or "yellow card" being issued by the Bureau of Quarantine (BOQ) for outbound travel as proof of full inoculation against Covid-19.
Sorsogon Governor Chiz Escudero, however, appealed for OFWs to be exempted from the PHP370 fee.
"This should be given free of charge to all vaccinated OFWs," the former senator posted on his Twitter account @saychiz.
In Advisory 101 issued on Aug. 5, 2021, the Department of Labor and Employment (DOLE) outlined the interim guidelines issued by the National Covid-19 Vaccination Center that outbound travelers, including OFWs, should bring to their countries of destination the government-issued proof of vaccination, if such is required.
The BOQ Medical Service will issue the international vaccination certificate until the Certificate of Vaccination Record portal becomes fully operational, DOLE stated.
OFWs need to pay PHP300 for the documentation fee and PHP70 more as convenience fee when they register through the BOQ platform.
The Department of Foreign Affairs also disclosed that Hong Kong, home to more than 200,000 Filipino domestic workers, won't honor the vaccination cards issued by local government units as proof that they have been inoculated because there is no single source.
Philippine Consul General in Hong Kong Raly Tejada said in a television interview on Aug. 11 the problem is being fixed, with Hong Kong amenable to the World Health Organization-recognized "yellow card" provided it includes the passport details of the holder. (PNA)