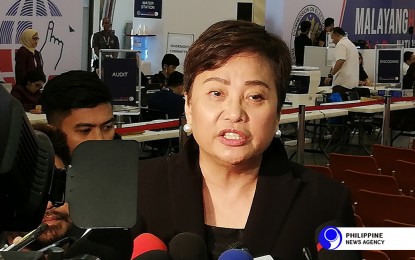 MANILA – The Commission on Elections (Comelec) has asked the help of financial experts amid concerns that politicians might use GCash, a mobile wallet in the country, to buy votes in 2022 national and elections.
"Vote buying is now going techie, because people cannot, politicians cannot go house to house and then distribute money. So, I heard about this sort of a GCash system, and I talked about this with the UP School of Economics alumni, and I asked their help, because they are bankers there and experts in finance," Comelec Commissioner Rowena Guanzon said in a webinar on Monday.
Guanzon said financial experts have told her that the digital vote buying can be traced by the Bangko Sentral ng Pilipinas (BSP).
"And they said that the Central Bank can actually monitor this GCash style or method of vote buying and if the public, especially the experts can help us find a way although we cannot prevent it, to catch them, and prove that they used it to buy votes, we will be very grateful because it is something that the Comelec has not done before," she said.
Guanzon warned the politicians who will tap the mobile wallet to lure voters to support them that they will be caught through the help of experts from the BSP.
"Again, the Central Bank has the power and the capacity to trace this vote buying through GCash and just also warning, the politicians know you're going to be found out," she said during the webinar presented by the Catholic Educational Association in the Philippines (CEAP) together with the Private Education Assistance Committee (PEAC) and the Coordinating Council of Private Educational Associations of the Philippines (COCOPEA).
"I mean, if you think you're 10 steps smarter than us. I mean, think about automated voting. It happened. Before it's so easy to fake the ballot, one person...but now you have the automated vote counting machines," she added.
Comelec spokesperson James Jimenez earlier said the poll body is wary of possible digital vote buying in the next year's elections.
"We've been saying this as much for the longest time, or since the people started using e-wallets, we have seen that potential," Jimenez said. (PNA)