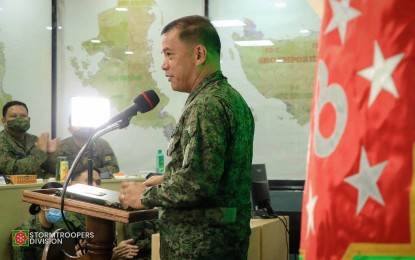 TACLOBAN CITY – The death of 16 armed rebels and recovery of several firearms in Dolores, Eastern Samar on Aug. 16 is a "big blow" to the New People's Army (NPA) in Eastern Samar, a top military official said on Tuesday.
Maj. Gen. Pio Diñoso III, commander of the Philippine Army's 8th Infantry Division, said the intense firefight that destroyed a major NPA lair and a bomb-making facility is the biggest accomplishment of the government since the creation of the national and local task forces on ending local communist armed conflict in 2019.
"The recovery of several firearms means that many fighters were wounded as they abandoned their firearms to flee from our troops. This will further weaken the NPA organization in Samar Island," Diñoso said in a virtual press briefing.
With the reported deaths on the side of the rebels, the regional task force on ending local communist armed conflict (ELCAC) held a meeting on Tuesday to discuss ways on how to provide decent burials to slain communist fighters of 12 men and four women, to extend assistance to their families, and help the affected community.
Diñoso said there were about 50 rebels taking shelter in the lair. They belong to the remnants of the communist terrorist group who left the neighboring Samar province due to intensified clearing operations last year.
The Armed Forces of the Philippines (AFP) has to use air assets since the NPA set up anti-personnel mines near the lair that serves as hideout for its leaders and fighters, according to the military official.
The firefight started at 4 a.m. and ended at 5 p.m. as rebels resisted to abandon the lair in the upland Osmeña village in Dolores, a town in Eastern Samar, located 185 kilometers northeast of Tacloban, the regional capital. No soldier was hurt during the intense armed confrontation.
"Maybe the NPA stayed as they fought to protect their leader. They kept coming back to the encampment probably to secure their laptops and other sensitive materials," he added.
Diñoso described the lair as a big encampment, which had been maintained by rebels for several months. It has a multi-purpose hall for training and a bomb-making facility.
Government troops launched an intense attack acting on tips from villagers about the existence of NPA lair in the jungles, located just three kilometers away from the community.
"We verified if it's really accurate. We planned carefully and involved all AFP assets available," he added.
The military official is optimistic that more rebels will surrender after the incident as they would realize that the government has all the resources needed to dismantle the communist terrorist group.
"If they won't choose the path for peace, they will face the same plight. This is to show that the Philippine Army is strong and has the capability to end this armed conflict," Diñoso told reporters.
The Communist Party of the Philippines-NPA is listed as a terrorist organization by the United States, the European Union, the United Kingdom, Australia, Canada, New Zealand, and the Philippines. (PNA)