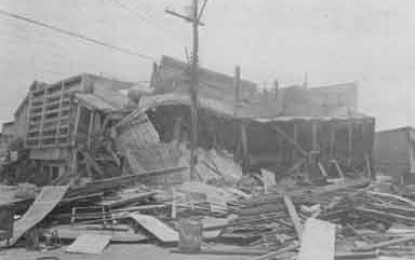 MANILA – The powerful magnitude 7.2 earthquake that struck Haiti and killed over 1,400 people on Sunday immediately sent vivid recollection of the devastating magnitude 8 tremor, followed by an equally destructive tsunami that hit Mindanao on Aug. 17, 1976, killing some 8,000 people and over 10,000 injured.
This reporter was among a group of journalists from Manila that boarded a Fokker 27 plane of the Philippine Air Force (PAF) that ferried us to various places in the southern Philippines that were hit by the earthquake and tsunami.
The plane was piloted by Brig. Gen. Antonio G. Villanueva, a veteran PAF pilot.
Earlier that day, I called up the Philippine News Agency (PNA) news desk manned by Angel Sambo, the morning editor, at 7 a.m. to inquire about my assignment and was told to proceed immediately to Villamor Air Base (VAB) in Pasay City where a PAF plane was waiting for members of media to go to Mindanao where thousands were killed by a powerful earthquake and tsunami early dawn that day.
With only PHP20 in my pocket, I proceeded immediately to VAB.
We were told that our first stop would be Cotabato City which was the most devastated in terms of casualties and infrastructure.
But flying over Awang Airport in Cotabato, the plane could not land because the airstrip was partly damaged.
We proceeded to Dipolog City but as soon as the Fokker aircraft was about to touch down, the airport tower told Gen. Villanueva to abort the landing because of aftershocks.
Immediately, Gen. Villanueva pulled the throttle as the plane made a steep climb in a perpendicular position, the aircraft being dragged down due to gravity that many of the passengers who did not tighten their seat belts were thrown back. Fortunately, no one was hurt.
TV cameramen were crammed near the comfort room of the aircraft but still managed to laugh off the experience while holding their cameras on their chests.
We finally landed in Pagadian City. After disembarking from the plane, Gen. Villanueva said: "We are lucky that God saved us from a fatal accident because of the awkward perpendicular position of the Fokker plane over Dipolog Airport, the aircraft would have crashed."
We breathed a sigh of relief, thanking our Lord Jesus Christ for giving us a new lease in life. Before boarding the plane at VAB, I also repeatedly prayed Psalm 23, "The Lord is my Shepherd."
Had we crashed, we would have not covered the devastating earthquake-tsunami, the strongest to hit Mindanao and the whole Philippines to date.
In Pagadian City at that time, we saw over 2,000 fatalities, many of the victims already had bloated bodies after being recovered from the seashores.
Hundreds of victims that were carried away by the big waves were found inland and rescuers used tire air pumps to inject the victims with formalin.
The victims were buried in mass graves.
We proceeded to Cotabato City where thousands also died. Many were pinned down underneath buildings that rescuers had to use cranes and bulldozers to recover the bodies. They too were buried in mass graves.
After taking off from Cotabato City for the return flight to Manila, Gen. Villanueva flew over the Moro Gulf where we again saw hundreds of floating bodies.
We could not dispatch stories because communications were all down and there were no mobile phones at that time.
It was back in Manila when I was able to write my story at the PNA editorial office on the 3rd floor of the National Press Club building in Intramuros.
The August 17, 1976 earthquake-tsunami hogged the headlines not only in the country but all over the world, one of the biggest coverages a journalist will never forget. (PNA)