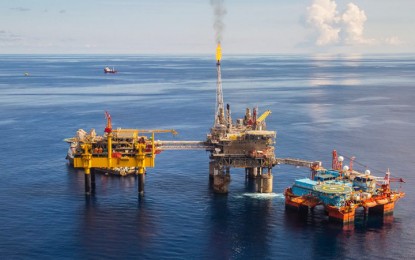 MANILA – Investments for liquefied natural gas (LNG) projects in the country have been accelerated with the looming shutdown of the Malampaya gas field, with the Department of Energy (DOE) giving a green light to seven LNG projects.
Fitch Solutions, the research arm of Fitch Group, said the Philippines becomes a "highly interesting" area for energy investments with its "energy hungry domestic market and ample trade opportunities throughout the region".
"The number of projects that have been awarded a notice to proceed from the DOE has now increased to seven each targeting start-ups by the mid-2020s ahead of the forecast depletion of Malampaya," Fitch Solutions said in a commentary released Wednesday.
These LNG projects are investments of First Gen Corp. and Tokyo Gas, Batangas Clean Energy, Excelerate Energy, Energy World Corp., Vires Energy, Shell, and Atlantic Gulf & Pacific Company of Manila.
Fitch Solutions added it is critical for the Philippines to have replacement of power source before Malampaya gas field will be completely dried up.
Malampaya is the country's lone significant source of oil and gas supply, which provides 30 percent of the power requirement of Luzon, or 20 percent of the country's total electricity requirement, it said.
"The gradual reduction in gas production from the field is already driving up consumer electricity costs and causing rotational power outages across the islands; a complete stoppage without replacements in place would prove to be highly damaging for businesses and end-users alike," it added.
Fitch Solutions said the lifting of the moratorium on oil and gas exploration in the West Philippine Sea will help the country in finding another source of power.
However, there is a need for more clarity in the situation over the disputed waters as firms have not been keen to invest in areas with heightened tensions and uncertainties, it added. (PNA)