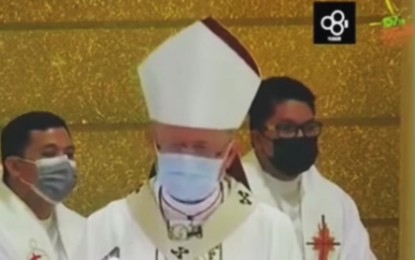 CEBU CITY – Cebu Archbishop Jose Palma on Wednesday warned priests not to use the pulpit in their "personal campaign" against the government's coronavirus disease 2019 (Covid-19) vaccination program.
In a video posted on the archdiocese's social media page, Palma advised priests opposing vaccination to refrain from including their personal stand in their homily.
"If you believe that it's not appropriate, then don't include it in your sermon. Because a sermon is an official teaching of the Church," Palma said in a mix of Cebuano and English.
While he respects priests' personal opinions, Palma reminded them that the pulpit is used only to preach the official teachings of the Catholic Church.
This, he said, means that the homily must share the reflection or the message of the Church in general even if, at times, it runs in contrast to the personal beliefs of the priest himself.
"And the church recommends vaccination," he pointed out.
Palma's remarks came after a video of a priest, whose name was withheld, circulated via private messenger where he delivered a homily against vaccination and attributed to the Covid-19 pandemic as the work of the devil.
"When the priest insists on his own personal conviction against what the teaching magisterium holds that is direct disobedience to Church authority," the statement posted in the Archdiocese of Cebu social media page said.
"The Church means in the simplest sense, 'to gather or to bring together'. Amidst the present crisis situation, the Church calls for unity. Jesus in his Gospel prays to the Father for unity," it further said, citing the Gospel of John. (PNA)