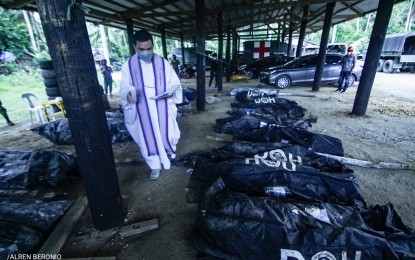 TACLOBAN CITY – The Philippine Army has recovered three more bodies of New People's Army (NPA) rebels after an intense firefight with soldiers on Aug. 16 at the outskirts of Dolores, Eastern Samar, bringing the number of fatalities to 19, a top military official said on Thursday.
Maj. Gen. Pio Diñoso, commander of the 8th Infantry Division, said two more bodies were found on Tuesday while another body was retrieved on Wednesday through the help of K9 units.
"After scouring the encounter site for days, we don't expect to find more dead bodies, but we are sure that some of those wounded NPA fighters fleeing from government troops also died along the escape route," Diñoso said in a phone interview.
At least 18 corpses were airlifted and brought to the headquarters of the 52nd Infantry Battalion in Dau village, Oras, Eastern Samar for proper disposition.
Soldiers also recovered three more firearms in the past two days, bringing to 32 the total weapons seized after the clash.
The armed confrontation on Aug. 16 is considered one of the most successful operations of government forces against the communist terrorist group.
About 50 rebels were hiding in a big lair in Osmeña village in Dolores town when the Armed Forces of the Philippines (AFP) launched an attack early Monday.
The AFP used its air assets as the rebels set up anti-personnel mines near the lair that serves as a hideout for its leaders and fighters.
The firefight started at 4 a.m. and ended at 5 p.m. before the rebels abandoned the lair.
The military described the lair as a big encampment, which had been maintained by rebels for several months. It has a multi-purpose hall for training and a bomb-making facility.
Government troops launched an intense attack acting on tips from villagers about the existence of NPA lair in the jungles, located just three kilometers away from the community.
The Communist Party of the Philippines-NPA is listed as a terrorist organization by the United States, the European Union, the United Kingdom, Australia, Canada, New Zealand, and the Philippines. (PNA)