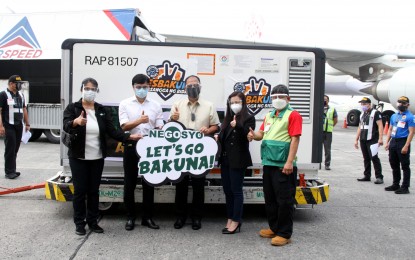 MANILA – The Bureau of Customs at Ninoy Aquino International Airport (BOC-NAIA) has facilitated the expeditious release of close to 4 million doses of coronavirus disease 2019 (Covid-19) vaccine of different brands.
In a statement on Friday, the bureau said the recent shipments of AstraZeneca, Pfizer-BioNTech, and Sinovac vaccines have been cleared and have been delivered to storage facilities.
At around 9:20 a.m. on Friday, the BOC-NAIA facilitated the release of another 582,500 doses of AstraZeneca which arrived via Flight No. CI359 at Terminal 1.
On Thursday, three million doses of Sinovac coronavirus disease 2019 (Covid-19) vaccines arrived and were escorted by Customs-NAIA CoVax Task Force and other enforcement agencies upon immediate transfer to the DOH designated cold storage facility.
The shipment containing 365,040 doses of Pfizer-BioNTech Covid-19 vaccine, which was pre-cleared on August 17 through the port's One-Stop-Shop, arrived on Wednesday night from Belgium via Flight No. LD457 at Terminal 3 at around 9:20 pm.
The vaccines were immediately transported and under guard upon arrival at Pharmaserv Cold Storage Facility and Southern Philippines Medical Center-Davao.
More than 46 million vaccine doses from seven brands were processed and cleared by the bureau, including Sinovac (25.5 million); AstraZeneca (7.85 million); Pfizer (4.59 million); Moderna (4.29 million); Johnson & Johnson (3.24 million); Sputnik V (365,000) and Hayat-Vax (100,000). (PNA)