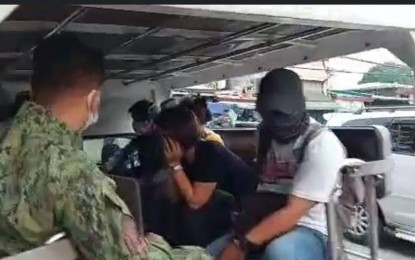 MANILA – Authorities in Pasig City are hunting individuals involved in the illegal selling of pandemic cash subsidy forms to unqualified beneficiaries.
Mayor Vico Sotto said the so-called fixers will provide unqualified persons with enhanced community quarantine assistance form, intended for the national government's aid to low-income families.
The unqualified beneficiary will get PHP1,000 while the fixer and the validator, who approved the release of subsidy, will pocket the remaining three-fourths of the sum amounting to PHP3,000.
Sotto vowed other suspects and bogus beneficiaries will be arrested.
On Thursday, the Eastern Police District, acting on anonymous tips, arrested 18 individuals involved in the modus in Barangay Kalawaan.
Seven of the arrested suspects are Pasig residents, four from Marikina, three from Taytay, one from San Mateo, and two validators.
Police recovered PHP31,000 from one of the suspects.
"Sa magnanakaw na nahuli at sa mga maaaring mahuhuli pa lang, pasensyahan na lang tayo. Hindi na kayo naawa sa mga taong nangangailangan, tapos ngayon kayo po ang magpapaawa? Mas bagay kayo sa kulungan (To all the thieves who were arrested and who will be arrested, I can't do anything for you. You did not feel sorry for the people in need, and now you are begging? You're better off in jail)," Sotto said in his Facebook post.
The city government has yet to determine the exact amount of cash lost from the subsidy fund.
Pasig received PHP650 million from the national government.
Anti-Red Tape Authority (ARTA) Director General Jeremiah Belgica on Friday lauded the police and the city government for their efforts to halt the illegal operations and for "their efforts to root out these fixers".
"This is encouraging because it shows that local governments are gradually taking the initiative to clean up their areas from such unscrupulous individuals within their jurisdiction," Belgica said in a statement.
He said ARTA is willing to assist in entrapment operations against fixers.
"We hope that more local governments will follow suit and conduct regular checks on their respective cities or municipalities regarding the distribution of cash assistance," he added.
Belgica admonished the fixers to find jobs instead of taking advantage of the pandemic. (With a report from Lloyd Caliwan/PNA)