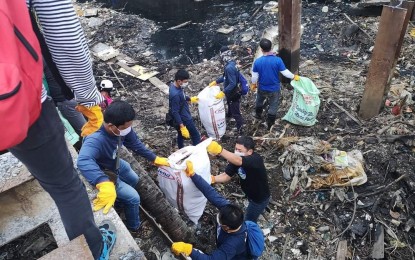 CITY OF SAN FERNANDO, Pampanga – Some 23,000 tons of waste were collected from major river systems and tributaries of Manila Bay in Central Luzon following massive cleanup efforts by the Department of Environment and Natural Resources (DENR) regional office here for the first eight months of the year.
Paquito Moreno Jr., executive director of the DENR-Central Luzon, said on Monday that from more than 1,400 tons of mixed wastes collected in 2019 when the Battle for Manila Bay program was launched, the figures have increased until the January to August activities.
"We have doubled our efforts to clean our rivers through grubbing of rivers and creeks in Bataan, Bulacan, Pampanga, Tarlac, and Nueva Ecija. Grubbing is the mechanized removal of wastes already deposited at the bottom of rivers," Moreno said in a social media account post.
He said there's still a lot more to be done to get rid of waste from Manila Bay but the progress has been enormous since the campaign started two years ago.
Moreno said the DENR has also deployed some 420 estero (creek) rangers in Manila Bay areas in the region.
They are primarily tasked to conduct cleanup and monitoring of rivers, beaches, and other water bodies.
Likewise, a total of 125 trash traps were installed in Bulacan, Bataan, and Pampanga to prevent solid wastes from reaching the coastlines of Manila Bay.
The floating trash traps, which are made from recycled materials such as plastic and fishing gear and measuring about 30 to 100 meters, were put up last year.
As a mitigation strategy, Moreno said the trash-trapping initiative has reduced the volume of plastic wastes in water bodies and prevented single-use plastics, candy wrappers, containers, and other pollutants from entering waterways and flowing downstream, since solid wastes were captured directly from their source.
The DENR official assured the public that the trash traps in local waterways do not hamper the movement of fishes and other aquatic species, but protect physical habitats and coastal and marine ecosystems from being polluted.
Meanwhile, he appealed to the public to properly manage their solid wastes and support government efforts to save Manila Bay.
"We encourage everyone to religiously segregate their solid wastes at home and avoid using lots of single-use plastics because this will help in the reduction of our daily garbage generation," he said.
He said it is the commitment of the DENR and the rest of the mandamus agencies to clean Manila Bay, which covers Calabarzon, the National Capital Region and Central Luzon, for a total of 190 kilometers of coastline.
Of the number, 144 kilometers are part of Central Luzon, covering the provinces of Bulacan, Pampanga, and Bataan.
Statistics from the DENR's Environmental Management Bureau-Region 3 showed that the average solid waste generation of Central Luzon is estimated at 5,598 tons per year.
DENR launched the Battle for Manila Bay on Jan. 27, 2019 with 12 other agencies tasked by the Supreme Court in 2008 to clean up and rehabilitate Manila Bay.
"This is a battle that will be won not with force or arms but with the firm resolve to bring Manila Bay back to life," DENR Secretary Roy Cimatu said then. "With the commitment and determination of every Filipino to do his share in this rehabilitation effort, we have already won the battle for Manila Bay.
The other agencies taking part in the rehabilitation are the Department of Tourism, Department of the Interior and Local Government, Department of Social Welfare and Development, Department of Trade and Industry, Department of National Defense, and Department of Science and Technology.
Also in the loop are the Pasig River Rehabilitation Commission, Housing and Urban Development Coordinating Council, National Housing Authority, Presidential Commission for the Urban Poor, Manila Water Company Inc., Maynilad Water Services Inc., local government units, non-governmental organizations, and other stakeholders. (With a report from Zorayda Tecson/PR)