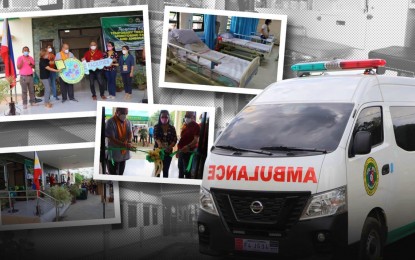 COTABATO CITY – The city of Tacurong in Sultan Kudarat province is a recipient of a third coronavirus disease 2019 (Covid-19) isolation facility worth PHP10 million (Covid-19) from the Department of Health–Region 12.
Mayor Lino Montilla said Tuesday the new DOH-funded Covid-19 temporary treatment and monitoring facility (TTMF) building in Barangay Upper Katungal was a commitment by DOH-12 Director Dr. Aristides C. Tan following the opening of Crown-V, the second TTMF constructed in the locality in November last year.
The Crown-V was built through the local government unit's Bayanihan Grant Fund (BGF).
"The DOH-12 director was seemingly impressed on how we handled our BGF that led to the establishment of this third TTMF," Montilla said in a radio interview by reporters here.
He said that the new facility opened on Monday could readily house 26 patients at once, as it is also fully furnished and has multiple bathrooms and a reception area.
The mayor said DOH-12 also handed over a new ambulance to the LGU to ramp up its ongoing pandemic interventions.
He added that the DOH-12 promised them more provisions to come in support of their fight against Covid-19.
A fourth TTMF, with funds coming from the Office of Civil Defense, is already in the pipeline.
Montilla said the city also boosted its fight against Covid19 with the recent procurement of two sub-zero freezers, making them the first LGU in the province to acquire proper storage for Pfizer and Moderna vaccines.
The mayor has expressed willingness to welcome other LGUs in storing their vaccines in the city using the sub-zero freezers.
As of Monday, Tacurong had a cumulative total of 1,452 cases since March last year. Total recoveries at 1,242 with 173 active cases to date. The death toll is at 37. (PNA)