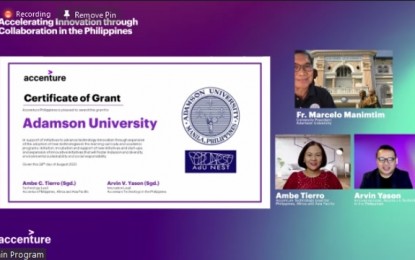 MANILA – Business process outsourcing (BPO) firm Accenture has partnered with 10 universities and academic institutions to help accelerate technology innovation in the country.
In a virtual ceremony on Tuesday, Accenture turned over PHP80 million in grants to its academic partners to fund programs that focuses on emerging technologies, sustainability, and inclusion and diversity.
Accenture technology lead in the Philippines, Africa, and Asia Pacific Amber Tierro said the funding aims to help boost the local innovation system, especially Filipino technology talents.
"By supporting on-campus labs and incubators that are embarking on initiatives to accelerate the use of new technologies, develop more sustainable business practices, and foster a more inclusive culture in the technology field, we are helping to nurture the next generation of Filipino technologists that will solve complex business and social challenges in the future," Tierro said.
Accenture's partnership with Adamson University Technology Business Incubator for Neo-Environmental Science and Technology will involve curriculum updates and startup support for Industry X applications.
In Asian Institute of Management-Dado Banatao Incubator, the BPO firm will be funding the Innovate with Data program that will establish a collaborative learning journey to transform local startups into data-driven companies.
Its tie-up with Ateneo de Manila University (ADMU) involves curriculum intervention to establish data and analytics programs at the tertiary education level.
Accenture will also collaborate with Ateneo Blockchain Labs to initiate programs to scale healthcare startups leveraging multi-party systems and blockchain curriculum elaboration and development of government applications for multi-party systems with ADMU Loyola Schools.
The Ateneo Innovation Center will also benefit from the grant as it embarks on programs focusing on 5G and Industry X technologies in target industries such as energy, consumer goods and services, deep technology, resources, and healthcare.
Accenture and FEU Institute of Technology will also initiate research and development programs on use of 5G and Industry X technologies.
Another 5G and Industry X technologies program will be done in the University of Santo Tomas–College of Information and Computing Sciences, with additional funding for 5G and Internet of Things (IoT) Research Facility and Industry Innovation Collaboration Space.
Accenture and UST DOST-TOMASInno Center will also collaborate on a program for building solutions for healthcare using IoT and robotics in regenerative medicine, among others.
The Technological Institute of Philippines-Nurture Innovation Technology Revolution Office will be rolling out post-graduate program integration for Industry X applications through the help of Accenture.
Program at the University of the Philippines Engineering Research and Development Foundation Inc. with University of the Philippines Sustaining Collaboration in an Advanced Learning Environment that will be supported by the BPO firm is the funding of startups and university-spin-off ventures within the sectors of healthcare, retail, software and platforms, consumer goods and services, banking, and insurance, among others.
Miriam College–MC Technology Business Incubator's will also receive support for Support incubation of second-stage startups that are female-led and focused on Edutech and additional support for senior high school and junior high school programs to encourage female students to take Science, Technology, Engineering, and Mathematics (STEM) disciplines.
Accenture is also collaborating with the De La Salle University-DLSU Animo Labs Foundation Inc. to create cross-industry monitoring, tracking and certification capabilities and platform for Environmental Social and Corporate Governance (ESG) in the Philippines and developing countries as well as with DLS-College of St. Benilde for initiating a program to build enterprise, software development, and user experience design capabilities within the deaf community to uplift their business and career opportunities.
"This grant program helps build the foundation on which our universities and academic institutions can further develop Filipino technology talent to look ahead to the future and solve pressing challenges using advanced technologies. With the accelerated pace of innovation today, we're proud to help inspire and motivate our youth to take on this opportunity to learn, experiment and test ideas, and support them as they do it over and over again," Accenture Technology in the Philippines innovation lead Arvin Yanson said. (PNA)