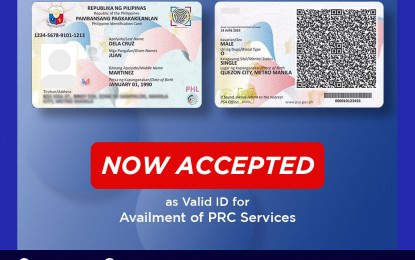 MANILA – The government will go to great lengths to achieve seamless transactions for Filipinos toward a fully digital economy.
One example is the Philippine Identification System (PhilSys) project that processes the Philippine Identification (PhilID) card.
Soon, the Philippine Statistics Authority (PSA), the lead implementing agency of PhilSys, will launch the mobile ID to be used while applicants are waiting for the actual card.
The mobile ID will be activated within this year, the PSA said in an advisory posted on Aug. 18.
The PSA reported that over a million individuals are now holders of the national ID, a valid proof of identity that they can use for public and private transactions.
The Philippine Postal Corporation, the official delivery partner of PSA, has already delivered 1,048,255 PhilID cards nationwide.
PSA Assistant Secretary Rosalinda Bautista said the door-to-door delivery of physical PhilID cards may take six months at the most after the completion of the Step 2 registration process, or the face-to-face biometrics capture.
"We humbly ask for the patience and support of the public as we continue to accelerate card production to accommodate the millions of Filipinos who have successfully registered for Step 1 and Step 2," Bautista said in a statement.
Once the mobile ID is operational, PhilSys registrants can start making transactions using their PhilSys Number which provides an authentication service for a secured and reliable verification of identity both offline and online.
Signed into law by President Rodrigo Duterte in August 2018, Republic Act 11055, or the Philippine Identification System Act, aims to establish a single national ID for all Filipinos and resident aliens.
The national ID shall be a valid proof of identity that shall be a means of simplifying public and private transactions, enrolment in schools, and the opening of bank accounts.
It will also boost efficiency, especially in dealing with government services where people will only need to present the PhilID during transactions. (PNA)